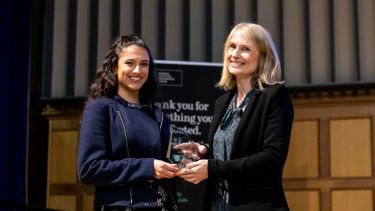 Member of The Dean's List, class of 2019
Abigail has shown an incredible level of engagement with other students and the community. 
Charitable endeavours
The numerous good causes she has volunteered her time for include the Chocs and Socks homeless charity, where she delivered a marketing campaign to support their donation drive in Autumn and Winter. 
Abigail also volunteered at the Whirlow Hall Farm Trust looking after farm animals and assisting visitors to the farm, and the Save Our Sandwiches campaign to reduce food waste. 
Abigail has achieved her aim to help the wider community, while also developing interpersonal, political and managerial skills. She undertook a two-month internship in Breast Cancer Care's Community Fundraising Team, through the University's Postgraduate Advantage Scheme.  During her internship she took a leading role in the planning and delivery of a national fundraising campaign, Pedal the Pennines, as well as gaining experience in marketing, stewardship, tracking resources and monitoring funds.
Growing skills and experience
Abigail further developed her understanding and experience of marketing by undertaking an internship in the Marketing department of a leading law firm in central London. She was introduced to a range of new responsibilities from research to event organisation. 
When she was selected to attend the International Graduate Competition in Montreal, Abigail prepared a consultancy-style report about an unfamiliar topic, worked with a team to create a presentation and produced a video within tight time constraints before travelling to Canada to compete against other universities. 
A University role model
As a Student Ambassador, Abigail added value to University life by giving Open Day tours, sharing her experiences with prospective students, and contributing to a student blog. She actively participated in the Swing-Dance Society and the University Mountaineering Club throughout her studies. Abigail contributed all this alongside representing the University as part of the Advanced Tap Dancing Competition team, with which she competed against other Universities across the country. 
After graduating, Abigail joined the professional team at Sherborne School, an HMC independent boarding and day school for boys.
A world top-100 university
We're a world top-100 university renowned for the excellence, impact and distinctiveness of our research-led learning and teaching.