BA International Business Management with Study Abroad and Employment Experience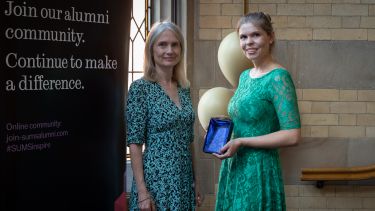 Member of the Dean's List, class of 2022
Anna-Valentina has welcomed the opportunity to widen her perspectives, both spending a year studying abroad and undertaking an industrial placement year during her degree. 
Broadening horizons
Anna-Valentina overcame the challenges of moving to a new country when she studied abroad at Nanyang Technological University in Singapore. She engaged actively with student life abroad, by arranging get-togethers to help new students settle in and also volunteering with a local dog shelter. 
Anna-Valentina continued to expand her international experience by undertaking her placement year at BMW in Munich, where she familiarised herself with agile working methods. After taking part in a cross-departmental cost-down project, Anna-Valentina analysed data from her department and proposed a concept for a software tool to improve capacity uses. She led a small team of experts and successfully conducted a proof of concept study, expanding her project management and leadership competencies while developing new digital skills.  
Supporting education and wellbeing
Anna-Valentina is passionate about contributing her time and skills to help her community. With social enterprise Beards and Books, she helped to improve education access for BAME children whilst gaining professional skills in business development and graphic design. She also volunteered as a Wellbeing Ambassador for South Yorkshire Chaplaincy and Listening Service, where she received training in listening skills to support vulnerable people. 
Part of our community
Within the University, Anna-Valentina volunteered as a steward for RAG Society's fundraising hike, represented the School at our recent AACSB re-accreditation assessment, and served as Competition Secretary for the Pole Fitness Society.
After graduating with her BA honours degree, Anna-Valentina has remained at the University to undertake her MSc Data Science degree. During her Masters studies, she has been elected President of the Pole Fitness Society, continuing her dedication to support fellow students outside of her studies. 
A world top-100 university
We're a world top-100 university renowned for the excellence, impact and distinctiveness of our research-led learning and teaching.