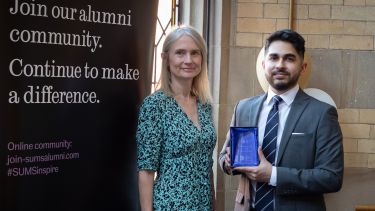 Off
Member of the Dean's List, class of 2022
Anurag has demonstrated excellent drive and determination to succeed, making proactive steps to improve his employability and demonstrate social responsibility throughout his studies. 
Competitive advantage
Anurag was selected to represent the University at McKinsey's consulting competition 'Solve It UK', Morgan Stanley's Finance Accelerator, and the 2019 IBM Universities Business Challenge. 
As a member of the Investment Society, Anurag joined the Twikker Fund and earned the Bloomberg Market Concepts Certification.
Mentor, mentee and student voice
Throughout the pandemic, Anurag remained determined to seek out opportunities. As a Mentee with the Careers Service e-Mentoring programme, he benefited from the advice and connections shared by our valuable network of University alumni. 
In his voluntary role as Student Mentor, he mentored 6 first-year students as they acclimatised to student life. As an Academic Representative for his degree programme Anurag improved his public speaking skills while supporting his fellow course mates, by voicing student feedback on their learning experience. Anurag was also an active member of social action project Enactus, contributing to the 'Regain' and 'WebCrafters' projects.
Developing professional skills
Anurag completed an internship at Belgian electric motor start-up, Magnax, and completed a financial modelling course offered by Wharton Online.
During his work experience as a Finance Summer Analyst at RBC investment bank, Anurag demonstrated strong leadership qualities. He led a team of interns in a hackathon challenge for Great Ormond Street Hospital Children's Charity, helping contribute to RBC's fundraising total of £200,000. Anurag performed in the top ten percent of the intern class and received a full time employment offer from RBC.
A global reputation
Sheffield is a research university with a global reputation for excellence. We're a member of the Russell Group: one of the 24 leading UK universities for research and teaching.