BA Business Management and Economics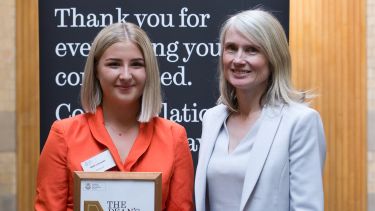 Member of The Dean's List, class of 2019
As well as actively preparing for her future career, Belle has shown a clear desire to help others develop their skills and confidence, which she demonstrated in her roles and activities throughout her degree. 
Exposure to the world of work
Belle made her future career an active consideration from the beginning of her studies. She attended numerous careers fairs and presentations to gain awareness of what opportunities were available.
She engaged in multiple different employment roles and experiences, including roles at South Yorkshire Fire & Rescue, Boots, and the Social Sciences outreach team, demonstrating a great variety of experience to take away with her after graduation.
Belle undertook the KPMG Spring Insight Programme and the BDO Insight Programme during her first year, to build her understanding of what a career in accounting would entail. She went on to complete a highly competitive summer internship at EY in her second year, boosting her networking, communication and team working skills. 
Through her own success on her summer internship, Belle's hard work and professional experience ultimately led her to enter her final year of study with a graduate employment offer from EY.
Reaching out to offer support
As a Brand Manager with On Campus Promotions, she helped other students to begin developing their own employability and provided them with advice and information, which resulted in many students finding their career path as teachers through the Get into Teaching Programme.
Having attended University from an underprivileged background, Belle was passionate about sharing her experiences with others. As an Outreach Student Ambassador she encouraged school students to apply to university and helped to make education more accessible to students in underprivileged areas. 
While working with the Social Sciences outreach team, Belle also created a monthly newsletter to provide advice on the wide range of academic, career and personal support available across the University.
Belle volunteered with the Clubbing Crew, supervising young people with learning disabilities so that they could enjoy nights out at the Students' Union, enhancing their student experience.
The future for Belle
After graduating with first class honours in her degree, Belle joined the team at multinational professional services firm EY as an Associate, before later being promoted to Senior Associate.