BA Business Management with Employment Experience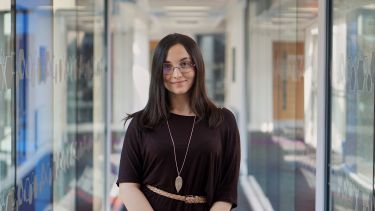 Off
Member of The Dean's List, class of 2018
Miruna has recognised the benefits of having a varied set of skills in the workplace. She both broadened and deepened her skillset to improve her employability, whilst she also actively sought opportunities to contribute to charitable causes and to the life of the University.
An enterprising individual
Miruna completed a 6 week entrepreneurship skills course and obtained the Skill Build Award with the University's Enterprise team (USE), learning from guest speakers about public speaking, market research and marketing. She built upon these skills by undertaking the USE Summer School programme, where she developed a business plan.
Through the Careers Service, she participated in the Sprint Women's Development Programme, four days of intensive workshops focused on developing professional and personal skills such as assertiveness, self-confidence and coping with change. 
Forming a career path
During her placement year with Irwin Mitchell solicitors, Miruna took the opportunity to learn computer programming skills and created an automated chat system to operate the firm's Facebook profile. 
After enjoying her computer programming experience, Miruna decided to grow her computer programming abilities by taking a course in Arduino programming with the Electronic and Electrical Engineering Society, and a course in Python programming with Enactus Code Creators. She then supplemented her practical skills development by undertaking online courses in big data management and ERP.
While at Irwin Mitchell, she chose to join the company's Charity Committee and took responsibility for holding weekly fundraising activities in the office, helping to raise £50,000 for Support Dogs Sheffield over the year. She also took part in the firm's HR courses on handling difficult conversations, and developing assertiveness and resilience.
Socially responsible
Within the Students' Union, Miruna joined the operations team to organise the Contours Music Festival, a student-led fundraising event celebrating local performers, where she marketed events, managed event operations and helped to generate sponsorships.
She was successfully elected as the Vice-Chair of SIDshare, the University's Student International Development Sharing Platform, aimed at improving the sustainability of communities in developing areas of Africa. 
As a One World Ambassador and Social Secretary on the Students' Union committee, she organised events to help students develop cultural awareness, promote diversity and support international students as they adapted to life abroad. 
Supporting fellow students
After returning to her studies on completion of her placement year, Miruna became a Placement Ambassador in the Employability Hub, supporting second–year students deciding whether to do a placement year.
Her role as a Student Ambassador for the Management School allowed her to enhance her communication skills and quick-thinking abilities, while she communicated with prospective students and their families using English as her second-language. She also became a Sheffield Mentor, supporting five first year students as they acclimatised to university life. 
Miruna chose to become an Academic Student Representative for her degree programme in the Management School, and also a Faculty Representative for Social Sciences, where she suggested improvements in the information that Personal Tutors could receive about their Tutees, to strengthen the level of support for students who are struggling.
Career steps
After her placement year at Irwin Mitchell, the company offered Miruna a graduate level role and she joined the Sheffield-based solicitors firm as a Project Coordinator after her graduation.
She then went on to be promoted to Web Development and Delivery Coordinator, before taking the role of Consultant at Deloitte. 
A global reputation
Sheffield is a research university with a global reputation for excellence. We're a member of the Russell Group: one of the 24 leading UK universities for research and teaching.