BA Business Management with Employment Experience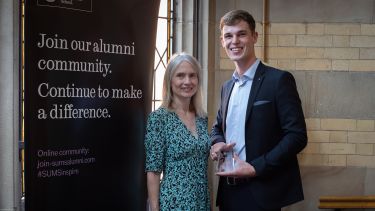 Off
Member of the Dean's List, class of 2022
Daniel made a concerted effort to contribute to his community and develop his employability well beyond the requirements of his degree course, and he maintained a long-standing commitment to supporting his local community throughout his time at Sheffield.
On the ball
Daniel maintained his dedication to the role of Football Referee, which he had started at age 14, throughout his time at Sheffield University Management School. After joining the University Men's Football Club, he competed in Varsity competitions, and also took up the role of Kit Secretary on the club's committee. 
Daniel regularly volunteered at his family's local Rotary Group, supporting charity race nights and helping to raise money for homeless charities in Milton Keynes. He used his hobby to raise vital funds for a good cause when he ran a charity football tournament to help a fellow student fundraise for the Movember Foundation.
Sharing his passion with the community
As the Social Secretary for the Management Society, Daniel partnered with the Investment and Trading Society and the Economics Society to organise collaborative events for students with common interests. He became the Management Society's Sports Secretary, sharing his sports hobby with fellow students by recruiting players and organising the members into sports teams. 
As a member of the Bummit Society, Daniel took part in the Baby Bummit Charity Hitchhike from Edinburgh to Sheffield to fundraise for local Sheffield charities. 
The world of work
Daniel took his employability no less seriously. As well as working a summer job abroad with Camp America, he completed a Spanish language course to develop additional skills. He worked within the Management School as a Student Ambassador, supporting prospective students through their higher education choices whilst gaining valuable work experience.
During his placement year at Volkswagen Financial Services, Daniel completed a sales analysis project and as a result of his success, his recommendations were implemented and he was given an opportunity to present his project directly to the CEO.
A global reputation
Sheffield is a research university with a global reputation for excellence. We're a member of the Russell Group: one of the 24 leading UK universities for research and teaching.