MSc International Management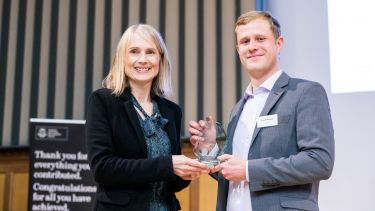 Member of The Dean's List, class of 2019
Dominik consciously sought opportunities to improve his employability, made early steps towards an entrepreneurial career, and was motivated by his own personal experiences to help others in his community.
Entrepreneurship
Dominik attended the Global Entrepreneurship Congress (GEC) 2019 in Manama, Bahrain, with the Global Leadership Initiative (GLI), where he took the opportunity to promote social responsibility while working as a policy analyst. Through attending the GEC he represented the University in an international field of startup champions and took advantage of a unique opportunity to network with entrepreneurs from around the world.
To develop his communication and organisational skills he attended over 30 workshops at the 301 Skills Centre, and he broadened his data management skills by learning to work with SPSS software.
Dominik completed the Employability Passport and successfully secured a Company Project for his dissertation, which allowed him to gain experience of solving real-world research questions for a company.
Promoting mental wellbeing
Dominik registered with the Sheffield Volunteering office and collaborated with a fellow student to support the donation drive for a food bank in the local supermarket. 
As well as carrying out the role of Student Academic Representative for his degree programme, Dominik arranged events like a Christmas dinner at the Management School to bring students together and promote inclusivity.
When he noticed his fellow course colleagues struggling with assignments or exam preparation, he supported them by proofreading their work and providing feedback on their English language usage, which had the mutual benefit of allowing Dominik to become more aware of different cultures.
Future career
After graduating, Dominik joined the graduate training scheme at cooperative banking company Raiffeisenlandesbank Niederösterreich-Wien AG in Austria, to become a Key Account Manager. 
Due to his previous experience in project and process management, he secured a position in the bank's sales management department as a Project Manager responsible for digitalization projects. Dominik also joined the MBA programme at LIMAK Austrian Business school, with a focus on digital transformation and change management. 
A world top-100 university
We're a world top-100 university renowned for the excellence, impact and distinctiveness of our research-led learning and teaching.