BA International Business Management with Study Abroad and Employment Experience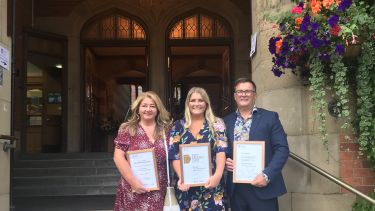 Member of The Dean's List, class of 2019
Elise earned her place on the Dean's List for making the most of her opportunities across the University and abroad, to become a well-rounded individual with practical employability skills and a passion for social responsibility.
Confident communicator
As one of the few students to do both a year studying abroad and a year in industry, Elise was brave enough to join an Austrian hockey team during her year abroad in Vienna, where the coach only spoke German. Rather than giving up her favourite sport while abroad, Elise persevered, and her German language skills were greatly improved as a result.
While abroad, she contributed to the School's international blog to share her experiences with other students who were considering studying abroad, and volunteered to represent a module at the 'module choice fair' in May. 
Supporting fellow students
Elise improved her interpersonal skills while also contributing to University life.  She presented to prospective students and parents as a Student Ambassador, and mentored fifteen second year students through the application process for a year in industry as a Futures First Ambassador on return from her placement year. 
As an avid hockey player in the University Hockey Club, Elise made a conscious effort to take new hockey team recruits under her wing and help them settle in. 
Leadership
Praised for her leadership skills during her placement year at Unilever, Elise impressed her colleagues with her consistent high standards and professionalism, her autonomy and initiative. She gained experience of leading her own projects with a cross-functional team and launching new products while learning how to overcome challenges, find solutions and build networks. 
Her successful leadership skills have also been present in her aspiration to help develop others, having taken on the added role of line management, as part of the Movement to Work programme, during her placement and joined Unilever's Time to Talk team, where she encouraged Unilever employees to talk about their mental health and helped break down stigmas.
Elise impressed colleagues so much that she was offered a place on Unilever's Future Leaders Programme.