BA International Business Management with Study Abroad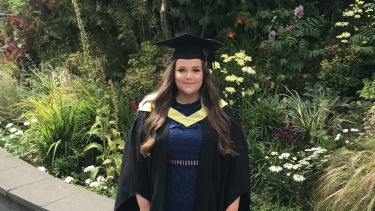 Member of The Dean's List, class of 2019
Emma was awarded her place on the Dean's List for her consistent focus on further personal development, her proactive approach to gaining professional experience and for her contributions to the communities around her.
Professional experience
Emma undertook a 10-week summer internship at the UK Government Department for Work and Pensions (DWP), which enabled her to develop her skills in research and analysis, and practice communicating with a wide range of stakeholders at various seniority levels. She took advantage of the opportunities available to her including meeting MPs, visiting Parliament, working in the London office and attending Fast Stream insider days. 
She also maintained a long-standing part-time job for a family-run business whilst at University. Having started at The Peacock pub pot-washing and waitressing, the owner was impressed with her communication skills, as well as her ability to be a team player and always help others. When the owner moved to a new pub, The Rivelin Hotel, they rehired Emma and promoted her to Shift Supervisor responsible for managing the team and the restaurant floor.
Working well with others
Emma's proactive approach is evident in her actions. She joined the Management Society and the Women in Business Society, attending the International Women's Day event and the HSBC Inclusions Networking event. 
Emma has a clear passion for helping others and making other students feel at ease. 
Work-life balance is a skill Emma has mastered and she has been proactive in helping others to achieve this balance too.  She describes herself as the 'mum' of her peers, always on-hand to listen and to help others, proven in her role as a Student Ambassador as well as taking part in group volunteer projects like the State of Sheffield, where her group succeeded in winning a prize for 'Best Artefact'.
An international outlook
One of Emma's most valuable experiences was her year abroad in Vienna, Austria, where she grew in her independence and confidence, changing her worldview and learning about a different culture. 
On returning to the UK, Emma presented to prospective students as a Student Ambassador about the benefits of her year studying abroad. She volunteered to represent Vienna University of Economics and Business at the University's Global Opportunities Fair, answering the questions of students considering an exchange year abroad. Emma even secured an opportunity to make a presentation about her student experience to delegates from Beijing. 
Next for Emma
After graduating with first class honours, Emma spent time at Dutton Recruitment in a graduate marketing role before moving into her career in internal communications.