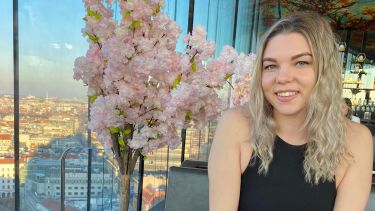 Member of The Dean's List, class of 2018
Heidi impressed the Dean with her clear drive to support others both inside and outside the University. 
Widening career prospects
Heidi improved her confidence and employability by participating in workshops and interview and assessment centres with the Employability Hub. 
In her job with the corporate events department at Centreparcs, she worked as a team to run events for clients, through which she improved her interpersonal and communication skills. She learnt to listen effectively and pay attention to non-verbal communication in order to successfully meet clients' needs. 
Heidi built her skills and confidence by completing a summer internship at multinational insurance company Aviva, where she gained experience of using virtual communications tools, running meetings, and liaising with colleagues at different levels. 
Her internship at Aviva provided Heidi with a practical perspective on her academic learnings, as she drew connections between her experience at Aviva and her final year studies of agile methodology. 
Heidi found that she enjoyed and thrived on working in the insurance industry, which provided a direction for her graduate applications. 
Brightening peoples' futures
Heidi was involved with her community through two volunteer roles with local primary schools. With the Taster of University Programme, she arranged and ran activities for Year 6 school children to introduce the idea of university as a future possibility and raise aspirations. 
In a separate volunteering role as a classroom assistant, Heidi helped primary school students with their reading and writing, giving extra support to children who spoke English as a second language. 
As a Sheffield Raising and Giving (RAG) Representative with the Student Union, she hosted face painting and bake sale events to fundraise for a charity called Changing Faces, which supports the mental wellbeing of people with visible differences or disfigurements. 
Supporting fellow students
Within the University community, Heidi was keen to support her fellow international students who lacked confidence in their written English language skills. She supported several students by proof-reading their work and offering her feedback on how to express points more clearly.
Heidi also supported six mentees over the course of two years as a Student Mentor, providing guidance and signposting to new students in their first few daunting weeks at University. She provided advice with her mentees first University assessments, supported a mentee in finding suitable student accommodation, and got to know her mentees as friends as well. 
Heidi's valuable mentorship led her to receive the University's 'Outstanding Mentor Award' two years in a row.
The future for Heidi
After graduating with first class honours in her degree, Heidi spent time as an Account Controller at NFU Mutual before joining Zurich Insurance Company Ltd, one of Interbrand's top 100 brands. 
She completed Zurich's graduate programme and successfully passed her professional insurance qualifications, taking a permanent role at the company.
A world top-100 university
We're a world top-100 university renowned for the excellence, impact and distinctiveness of our research-led learning and teaching.