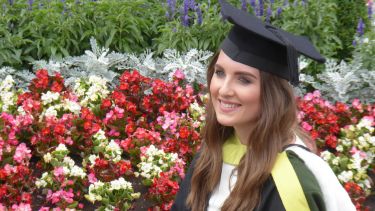 Member of The Dean's List, class of 2018
Holly demonstrated a strong belief in continuous improvement and she strived to develop her employability skill set, whilst maintaining a commitment to her volunteering and fundraising passions and supporting her fellow students.
Ahead of the game
Holly deferred her start date at the Management School to enable her to undertake a 15-month Supply Chain placement at Nestle. During her placement, she proactively sought opportunities to broaden her skill set, such as volunteering to attend a Logistics Exhibition and share her learnings with colleagues.
After going through a competitive application process, Holly won a place on the Lloyds Banking Group Scholars scheme, which included financial funding towards the cost of her university education. She also won places on two 10-week summer internships and access to a senior mentor within the company as part of her scholarship with Lloyds Banking. 
During her internships, she led a team of four in a Digital Innovation Challenge, learning how to work with each of her team-members' strengths when distributing tasks.  
Award-winning efforts
Holly was a committed member of Sheffield University Netball Club throughout her three years of study. She was elected Charity and Volunteering Secretary on the committee for two years running, and completed over 300 hours of volunteering during that time with charities including Whirlow Hall Farm, Cavendish Cancer Care, Sheffield Mencap, Oxfam and Gateway. During Sport Sheffield's Disability in Sports Week, Holly volunteered to run a Walking Netball Taster Session, aiming to make the sport accessible to everyone who wanted to participate. 
Holly developed her communication skills by encouraging new members to join the Netball Club at the annual Sports Fair, and by building relationships with charities on behalf of the club. She organised events such as a Charity Bake Sale and Quiz Nights, raising over £5,500 for charities including Raising Health, the Jessica Hope Foundation and Sheffield Mind. 
Due to her fundraising efforts, Holly was individually shortlisted for the Raising And Giving (RAG) Award at the University's Volunteering Awards in 2017. Her efforts as Charity and Volunteering Secretary for the Netball Club were further recognised, when the club was shortlisted for the Volunteering Initiative Award at the annual University Sports Awards.
Mentoring fellow students
In her second year Holly joined the University Mentoring programme as a Mentor for two international students who had moved to the UK from China and Peru. She contacted her mentees before they arrived to answer their questions, and then met them in person. She helped her mentees find societies that they might be interested in joining so that they could build friendships with other students who had common interests, and shared her knowledge of university life. 
As a Lloyds Banking Group Scholar, Holly also offered her advice and informal mentorship to fellow Lloyds Scholars during their summer internship application process. She knew first-hand that it was a daunting task and so she shared her experiences to ensure that they found and applied for the placement stream that would offer them the best experience and career prospects.
Next for Holly
Following the completion of her second internship at Lloyds Banking Group, Holly was offered a place on their Commercial Banking - Business Management Graduate Scheme
A world top-100 university
We're a world top-100 university renowned for the excellence, impact and distinctiveness of our research-led learning and teaching.