MSc Logistics and Supply Chain Management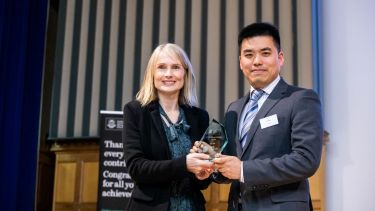 Member of The Dean's List, class of 2019
Kai shows exceptional drive towards his chosen career path in supply chain and logistics management. 
Growing a professional network
Kai actively maintained an excellent relationship with his former employer, Fresh Life Style (FLS) Cold-chain Logistics, throughout his course, sharing insights with them as he progressed through his studies. As a result he was invited to return to the company - one of the top 5 cold-chain logistics companies in China - after completing his studies. 
He built new networks by attending the Chartered Institute of Logistics and Transport (CILT) Annual Northern Seminar, and participating in UK jobs fairs. He further developed his application and interview skills by applying for graduate schemes with Proctor & Gamble and with the National Grid, going on to attend interviews and reach the final stage of an assessment centre.
Determined to succeed
To improve his interpersonal and linguistic skills, Kai actively involved himself with other international students. In his social life, he joined the University Volleyball Development Team and attended volunteering activities. 
To further develop his employability he reached out to the Careers Services to improve his CV, attended mock assessment centres and completed the Employability Passport.  Kai successfully applied for a scholarship to complete an International Summer School Programme in Spain.
Promoting diversity and inclusion
He demonstrated a clear passion to promote diversity and inclusion within the School, organising study groups to help fellow students who struggled with a language barrier in class, and supporting the International Officer candidate in the Students' Union Officers election campaign.
Kai launched a charity in China to support talented students from low-income families through school. Through the charity, he successfully funded a student living in rural China to undertake three years of primary school study. 
He assisted the Sheffield Chinese Community group to help organise their Chinese New Year Gala, which takes place annually at Sheffield City Hall, and helped to create a Varsity video for the #WeAreInternational campaign.
Making a greener world
As a volunteer with the River Stewardship Company Kai helped to protect the River Don by litter-picking along local river banks, including at The Great Sheffield River Clean Up, which was reported on The One Show on the BBC. Through the Students' Union's Give It A Go scheme, he volunteered with the Sheffield and Rotherham Wildlife Trust at the Wonderful Wildlife Reserve Volunteering day.
A world top-100 university
We're a world top-100 university renowned for the excellence, impact and distinctiveness of our research-led learning and teaching.