MSc International Management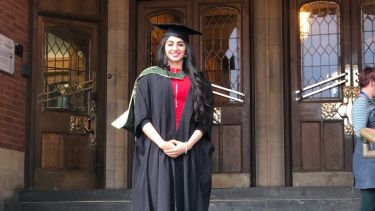 Member of The Dean's List, class of 2019
Mimisha has immersed herself in student life and already made steps towards her goal of working in academia. As well as earning her place on the Dean's List, Mimisha was the Top Performer on the MSc International Management programme in the class of 2020.
Gaining relevant experience
Mimisha developed her academic employability skills by working as one of four Student Research Assistants on a project exploring curriculum diversity in the Faculty of Social Sciences. 
As part of the Sheffield Advertising and Marketing Society, she attended a networking event at Jaywing, one of the city's largest marketing agencies. Her learnings from the event informed her preferred field of study, as she decided she would prefer to continue her studies in international management, with entrepreneurship, rather than specialising in marketing.
Mimisha completed the Employability Passport to build her communication and networking skills, and she actively sought feedback after giving presentations during her studies. After a competitive process, she was selected to undertake a Company Project for global manufacturing solutions company Tecomet.
She also successfully won a place on an International Summer School programme at ESADE Business School in Barcelona to learn about global, social and digital entrepreneurship and innovation.
Supporting fellow students
Praised for showing true commitment to diversity and cultural agility, Mimisha's active involvement with the University extends to her role as a Postgraduate Student Ambassador, supporting Open Day events and writing for a student blog, and as a Student Academic Representative, where she was key in helping to build a group identity for her classmates. 
After noticing that many of her course colleagues had not experienced a Christmas meal before, she organised a Christmas dinner outing including a Christmas Quiz for all of the students on her degree programme.
As a participant in the Student Observation Of Teaching (SOOT) Scheme, she provided feedback to academic staff about how teaching was received in the School of Engineering, to enhance teaching and learning at the University. 
During the festive season, Mimisha volunteered at Whirlow Hall Farm Christmas Market, helping at this local education charity's event by making reindeer hats with children. She wrote an article about her positive experience with volunteering, to be shared by the University's Volunteering Office.
A world top-100 university
We're a world top-100 university renowned for the excellence, impact and distinctiveness of our research-led learning and teaching.