MSc Marketing Management Practice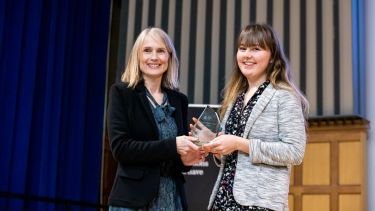 Member of The Dean's List, class of 2019
Nicola has shown great initiative and enthusiasm for helping others throughout her time at Sheffield and had no less enthusiasm when it came to developing her employability skills.
Passionate about supporting others
Nicola amassed a fantastic 360 volunteering hours while studying for her postgraduate degree. During her time at the student-run listening service Sheffield Nightline, she progressed to the most experienced level of Call-Taker, joined their Publicity and Fundraising Team, and helped to run events at the Students' Union's Mental Health Festival. 
As a result of her dedication to Sheffield Nightline, Nicola received the Lifetime Award as a special recognition of her service.
She supported the Sheffield Rape and Sexual Abuse Centre (SRASAC) as a Helpline Volunteer, where she helped with fundraising, supported the delivery of a training course for new volunteers, and represented the SRASAC at the SheFest International Women's Day events.
On a month-long expedition to Fiji, Nicola travelled to a remote island and worked in a team to rebuild a village hall that had been destroyed by a cyclone in 2016, ran a community health night to teach essential first aid, and ran sports sessions for children living in the village.
Social responsibility in the workplace
Nicola joined up her socially responsible values with her efforts to gain work experience by completing a marketing and development internship at the Cathedral Archer Project, a Sheffield-based homelessness charity. After finishing her three month internship she was asked to stay on and continued to volunteer with the organisation throughout the entirety of her postgraduate studies. 
This experience allowed her to gain valuable experience of managing a four-month marketing campaign to meet fundraising targets, while remaining within budget constraints.
Nicola became Project Leader for the social-enterprise Enactus project, Renovate, developing her leadership skills whilst supporting homeless and vulnerable individuals to take part in a renovation programme to provide them with key skills and employment. 
Bringing the competition
Nicola participated in the Postgraduate Advantage Scheme and completed a marketing and production internship with Sheffield-based film production company Sort Of… Films Ltd. 
After being chosen as one of only four students to travel to Montreal, Canada, Nicola took part in the International Graduate Competition (IGC), where she worked with a team to find a solution to a business case within 48-hours, developing her skills in working under pressure, presenting to others and collaborating with a team.
A world top-100 university
We're a world top-100 university renowned for the excellence, impact and distinctiveness of our research-led learning and teaching.