BA Accounting and Financial Management with Employment Experience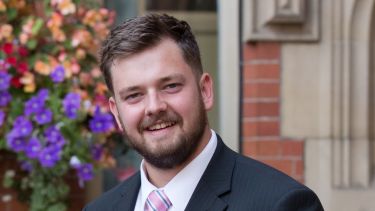 Member of The Dean's List, class of 2018
Thomas earned his place on the Dean's List for his enthusiastic approach to improving his employability and interpersonal skills, and for his contributions to the communities around him.
A highly employable student
Throughout his degree, Thomas undertook part-time jobs to gain experience in the workplace. He worked as a Bartender at The New Inn and The Edge Bar in Sheffield, and The Stone Arms in Lincoln. Over his first summer vacation he worked as a Product Operative at Guttridge Ltd, a machining manufacturer in Lincolnshire. 
After his second year of studies, Thomas embarked on a placement year as a Finance Analyst at NHS Lincolnshire East Clinical Commissioning Group, where he learned to tailor his communications for people with varying levels of financial knowledge and collaborate with colleagues to achieve positive results. During his placement year, he volunteered to be the Fire Warden, taking responsibility for ensuring his colleagues' health and safety in the case of emergency.
On completion of his placement, Thomas carried out a summer vacation role as a Laboratory Assistant at Gleadell Agriculture in Lincolnshire. His varied work experience allowed Thomas to become an adaptable individual with many transferable skills.
Creating an impact
Thomas was a Student Ambassador for both the University and for the Management School, representing the institution at higher education fairs, at University Open Days and in teleconferencing sessions to speak with prospective students about life at the University.
Having completed a placement year in industry, Thomas became a Placement Ambassador in the Management School, mentoring second year students through the placement application process and spreading the word about his own experience.
Teamwork
During his placement year, Thomas joined a rugby team in Lincolnshire, returning to his lifelong hobby to boost his self-confidence. When he faced preconceptions from teammates who had not gone through higher education, he learnt to break down barriers and bridge gaps with them so that they could play rugby effectively as a team. 
In the University, he joined the Sheffield Engineers Rugby Football Club, and was elected as both the Second Team Captain and Treasurer on the club's committee. He played regularly in local rugby leagues such as the Yorkshire Leagues on Saturdays, and as a senior club member, he welcomed players to approach him with their concerns or recommendations. 
In his final year Thomas became an US in Schools Mentor, working on a 1:1 basis with young people that are academically able but face barriers to higher education. He also volunteered as part of the Building Learning Power Club, supporting the education and personal development of children in care. As a result of his commitment, he was chosen out of 70 mentors to win the title of Mentor of the Month in December. 
Next for Thomas
Thomas completed the Finance Graduate Scheme at the European electric utility company E.ON. 
He then joined leading agricultural company Frontier Agriculture as a Financial Accountant, where he completed his CIMA assessment to become a Chartered Global Management Accountant
A world top-100 university
We're a world top-100 university renowned for the excellence, impact and distinctiveness of our research-led learning and teaching.