£1 million state-of-the-art Doctoral Research Centre launched at Sheffield University Management School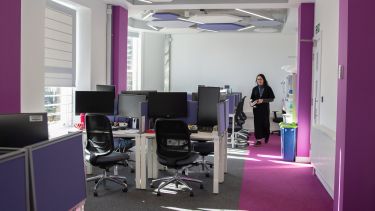 An investment of over £1m provides exceptionally high-quality working and social spaces for Sheffield University Management School PhD researchers
The refurbishments improve the professional research environment providing more accessible, flexible spaces
Management School PhD students are set to benefit from an investment of over £1 million to improve the Doctoral Research Centre, in a bid to further boost student experience and enhance the School's professional research environment.
The latest addition to the facilities at Sheffield University Management School includes completely refurbished working and social spaces for PhD students. The Doctoral Research Centre, as it will be known, is located on Northumberland Road and has been designed to provide an exceptionally high-quality environment for its users. The makeover provides students with world-class facilities and a professional, flexible working environment that will inspire the next generation of researchers.
The improvements made to the building will ensure an enhanced student experience for doctoral students in the Management School. A key focus of the improvement works was on enabling a strong sense of community to flourish among students. To meet these needs, flexible working spaces such as hot-desking and silent study facilities were created and the building is equipped with improved accessibility features. The improved infrastructure will encourage productive collaboration between students.
The refurbishment stands as a tangible example of the School's commitment to improving its students' experience and as a Triple Crown Accredited institution lives up to the exacting standards expected of an elite, world-class management school.
Dr Caroline Oates, Director of Postgraduate Studies in the Sheffield University Management School, said:
 "I am delighted that our students will benefit from an investment of over £1 million in facilities designed specifically for PhD students and their research".
"The creation of the Doctoral Research Centre and its focus on developing communities of researchers will help the Sheffield University Management School continue to thrive as an international centre of research excellence".
"These new facilities give us the environment and space we need to continue to develop the next generation of scholars".
Paula Kohn, a PhD student from Brazil, said:
"The new upgrade has brought to our Doctoral Centre a fresh modern look with an up-to-date professional environment, creating a collective surrounding that facilitates mutual collaboration and support. I feel privileged and very comfortable here".
The Doctoral Research Centre opened to students in early 2019.
Find a PhD
Search for PhD opportunities at Sheffield and be part of our world-leading research.