Sheffield University Management School achieves AMBA re-accreditation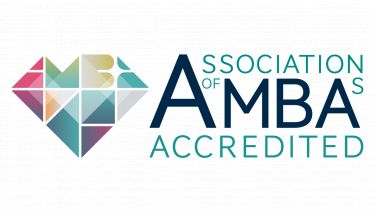 Sheffield University Management School officially received re-accreditation from the Association of MBAs (AMBA), one of the world's leading authorities on post-graduate business education, demonstrating its continuing commitment to excellence in management education.
Upon receiving AMBA accreditation, all current MBA/MBM students and recent MBA/MBM alumni of the Sheffield University Management School are invited to join AMBA's global member community of more than 56,000 students and alumni in more than 150 countries on a free basis, for networking, thought leadership, career development, and a variety of benefits.
Accreditation from the Association of MBAs (AMBA) represents the highest standard of achievement in post-graduate business education. Its rigorous assessment criteria ensure that only the highest-calibre programmes which demonstrate the best standards in teaching, curriculum, and student interaction achieve Association of MBAs accreditation.
The Sheffield University Management School was established in 1990. It delivers programmes at undergraduate, postgraduate and doctoral level.
Members of AMBA's accreditation panel, representing senior management at AMBA-accredited Business Schools globally, commended the Schools response to the challenges posed by Covid-19. The panel noted recruitment to the full-time MBA and the MSc programmes was very strong in 2020, despite the pandemic.
The panel also commended the compulsory Career Accelerator Programme on the full-time MBA programmes. This initiative provides professional development services and events, which were seen to benefit student experience.
The panel also commended the School's leadership team and dedicated programme teams.
Professor Rachael Finn, Interim Dean of the Management School, said: "I am delighted that the Management School has been awarded AMBA re-accreditation. This honour is a credit to the dedication of our staff in delivering truly inspiring teaching and exceptional professional development to our students which prepares them with the right balance of skills and knowledge for exciting careers in today's challenging environment.' 
AMBA accreditation is international in scope and reach, and AMBA works under the belief that accredited programmes should be of the highest standard and reflect changing trends and innovation in post-graduate management education. Its accreditation process reflects this commitment to fostering innovation, and demanding Business Schools to perform at the highest level continually."
Andrew Main Wilson, Chief Executive of the Association of MBAs and Business Graduates Association (BGA) said: "Congratulations to Sheffield University Management School for this re-accreditation. This prestigious School is an important part of our network, which contains only the top 2% of Business Schools globally. I look forward to continuing to work with this School."
A world-class university – a unique student experience
Sheffield is a research university with a global reputation for excellence. We're a member of the Russell Group: one of the 24 leading UK universities for research and teaching.