Sheffield University Management School achieves second Gold Award for Green Impact 2022-2023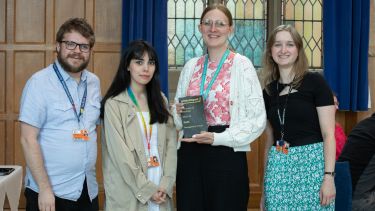 Green Impact is a United Nations award-winning programme which encourages environmentally and socially sustainable practices within organisations. The programme has collaborated with over 500 organisations including hospitals, museums and councils. Green Impact can help to bring about long-term, positive changes within an institution.
Our Green Impact Team consists of both professional services and academic staff, devoting their time and energy on a voluntary basis to assist our sustainability goals. The team was founded in 2019 and has overseen projects such as weekly litter picks, a staff book swap and encouraging staff donations to local food banks.
Caroline Mailer, leader of the Management School's Green Impact Team commented: "It's been fantastic leading the Management School's Green Impact team over the past three years and going from a small team achieving the Bronze award online during the pandemic, to a large group of us who have won the Gold Award for the second year running! This year has been full of events and activities for good health and wellbeing, a complete revamp of our virtual Green Impact noticeboard, and learning more than I ever thought I would about ducklings!".
This academic year, the Green Impact Team undertook three key projects which saw them work towards areas of sustainability within the United Nations' Sustainable Development Goals:
Firstly, they revamped the department's Green Impact Virtual Noticeboard, making it easier for staff and students to suggest their ideas for making the School more sustainable. This also allowed the team to provide updates on key sustainability projects, events and activities. The move to a virtual noticeboard has the positive sustainability effect of replacing the School's previous use of paper noticeboards.
The Green Impact Team promoted good health and wellbeing in the Management School and the local community. Throughout the academic year, the team hosted a number of health, wellbeing, fundraising and community initiatives. Among these were the Christmas Shoebox Appeal to help the elderly and vulnerable, a visit from Support Dogs to promote student wellbeing, a Christmas Jumper Day which raised funds for the Student Hardship Fund, a litter pick event and a Hedgehog Survey which recorded the local area's wildlife. These events resulted in measurable benefits to the Management School and local community.
Finally, they have created a safe and sustainable habitat for the mother duck that visits the Management School courtyard annually. A duck ladder was installed, a duck house and pond purchased and a feeding plan was devised, with advice from the RSPB. This project aimed to increase biodiversity, protect wildlife and also promote the wellbeing of staff and students, with the mental health benefits of green spaces evident. 
Alongside the three projects, the team completed a number of essential actions. This included taking part in litter picks, carrying out regular bin audits to ensure the department is recycling as effectively as possible, providing fully vegetarian catering at Prize Giving events and investing in reusable decorations for celebration events rather than balloons.
In addition, this year the Management School's Green Impact Team won the Special Award for 'Innovation for Engagement' thanks to their work to improve communications and engagement around sustainability in a variety of innovative ways. A key component of this was working with two Student Content Creators to create videos about being sustainable on a student budget.
Congratulations to all of the Green Impact Team for their hard work and we look forward to seeing what they get up to in the coming academic year.
A global reputation
Sheffield is a research university with a global reputation for excellence. We're a member of the Russell Group: one of the 24 leading UK universities for research and teaching.