Sheffield University Management School student selected for a Lloyd Scholars Champion Award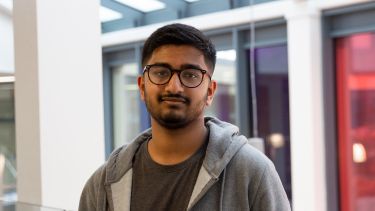 Final year Accounting and Financial Management student Thanes Thavarajah has been selected as joint runner-up for the Lloyds Scholars Champion Award. Along with a prize of £1,000, the award is a testament to his work as an advocate to the award-winning Lloyds Scholars social mobility programme. 
Partnering with leading universities across the UK, the programme offered students from lower income households a complete package of financial support, at least one paid internship, and a business mentor. After ten years, Lloyds Banking Group have now formally closed the programme. It was a fantastic opportunity for eligible students to build relationships with future employers and enhance their career prospects through workshops and events in return for volunteering and championing the programme.  
Talking about the awards, Jess Keen from the University of Sheffield's Careers Service, said:
"The fact that these were the last ever awards for the Lloyds Scholars programme and a Management School student won, really showcases the impact that this programme has had on students coming to Sheffield, not only at an individual level, but also on the University and the wider Sheffield community."
Thanes was selected as joint-runner up for the Lloyds Scholars Champion Award for their continued engagement with the programme, their work across a number of areas of the University of Sheffield where they have engaged with a range of stakeholders, and their dedication to volunteering with young people. 
Over the last three years Thanes has spoken about the difference the Lloyds Scholars Programme has made to their time at Sheffield, and how it has enabled them to engage with opportunities they would not be able to otherwise. The bursary enabled them to have the financial freedom to choose when they wanted to work around their studies and focus on their education. Their volunteering enabled them to give back the same support they received as a high school student to showcase that there are opportunities out there for them, and that university was actually an option for them. The accomplishment of becoming a Scholar with the opportunity to network with those at Lloyds Banking Group and develop their skills and experience has been invaluable. 
Jess goes on further to say that "Thanes is a real asset to the University and I know they will succeed in their future endeavours and will continue to praise the Lloyds Scholars Programme and the impact that being a Scholar has had on them in years to come. I'm really proud of all the Scholars who have been a part of the programme and it's been a real privilege to be able to support them throughout their time at Sheffield."
Explore the University
Discover why Sheffield is the right choice for you at one of our open days or events.