Sheffield University Management School wins Gold Award for Green Impact 2021-22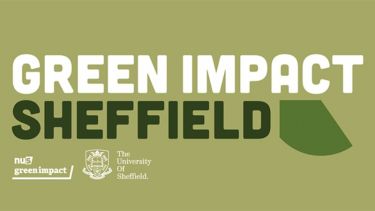 The Management School has a vision to promote positive societal transformation for a fairer, sustainable future through its research and education and this impacts on all aspects of how the School operates.
The Green Impact team is made up of colleagues across both professional services and academic staff. This year we were also joined by Student Green Impact Project Assistant, Sophia Reeve. Since the team was formed in 2019, Management School Green Impact projects have included weekly litter picks, a book swap in the staff room and they have encouraged staff to donate towards local food banks.
In 2021-22, the team worked on three key projects, each working towards areas of sustainability within the United Nations' Sustainable Development Goals.
The Second Edition of the SUMS Sustainable Cookbook was released, building upon last year's cookbook with new recipes from staff and students.
Download the SUMS Sustainable Cookbook, 2nd Edition
We launched a collaborative and dynamic Virtual Noticeboard, where staff and students can share their ideas as to how the Management School can become greener, and keep up to date with sustainability projects, events and activities throughout the School, the University and in the local area. This has replaced the School's previous use of paper noticeboards.
Finally, we took the opportunity to invite a guest speaker to talk with students and staff about home energy efficiency. Dr Stephen Allen, Lecturer in Organisation Studies, facilitated the event at which guest speaker Nick Parsons, consultant and local expert on retrofitting for sustainability, shared valuable insights as to how individuals can increase their energy efficiency at home.
Caroline Mailer, Alumni Engagement Officer commented, "I've enjoyed being part of the SUMS Green Impact Team as a way to connect with colleagues outside of my direct team and also as a way to contribute to the sustainability of the School. I'm really proud of our team's effort this year and excited to see what we can achieve next!" 
Congratulations to all involved in these projects, who have been encouraging students and staff across the department and beyond to work towards positive environmental action!
A world top-100 university
We're a world top-100 university renowned for the excellence, impact and distinctiveness of our research-led learning and teaching.