Dr Ali Samei
BSc, MSc, PhD
Lecturer in Strategic Management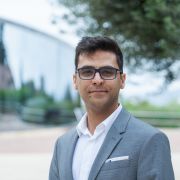 a.samei@sheffield.ac.uk
D026, Sheffield University Management School
Full contact details
Dr Ali Samei
Management School
D026
Sheffield University Management School
Conduit Road
Sheffield
S10 1FL

Profile

Dr Ali Samei is currently a Lecturer in Strategic Management at Sheffield University Management School. Before joining Sheffield University Management School, he held a postdoctoral research position at the chair of Technology and Innovation Management (TIM) at Technical University of Munich.

Ali received his PhD in Strategic Management from IESE Business School, University of Navarra in 2020, where he was awarded the IESE Business School's PhD Scholarship. His PhD research focuses on the role of strategic leaders' characteristics and cognition in shaping strategic decisions within firms. Ali's research has been presented in various international conferences, including Academy of Management Annual Meetings, Strategic Management Society Conferences, European Academy of Management Conferences, Druid Conferences, and EGOS. Ali also spent one year as a visiting Ph.D. candidate at Rotman School of Management, University of Toronto.
Qualifications

PhD in Strategic Management - IESE Business School, University of Navarra, Spain
MRes in Management - IESE Business School, University of Navarra, Spain
MSc in Management Engineering - Politecnico di Milano, Italy
BSc in Mechanical Engineering - Iran University of Science and Technology, Iran
Research interests

Innovation Management
Strategic Leadership
Behavioral Strategy
Corporate Social Responsibility

Ali is mainly interested in microfoundations of strategic decision-making in organisations. More specifically, his research interests lie at the intersection of strategic decision-making, strategic leadership, and managerial cognition. In his research, he explores how strategic leaders' characteristics, experiences, political ideology, and cognition shape their firms' strategic decisions such as innovation, knowledge sourcing, divestiture, and corporate social responsibilities. More recently, Ali is doing research on a few emerging topics that can have immense consequences for businesses and society such as digitization of economy and socio-economic impact of air pollution across the UK. His research approach is primarily empirical. Ideally, he aims to provide causal inferences through empirical approach. From a theory perspective, his work is quite diverse and analyzes research questions through the lens of agency, behavioral theory of the firm, and psychological traits.
Publications
Grants

Mobility Grant for "Doctor Internacional" Program, 2,000 euro, Caixa Bank, Spain, 2018
Professional activities

Ad Hoc Reviewer, Academy of Management Discoveries Journal; Ad Hoc Reviewer, Journal of Industrial and Corporate Change