The study abroad year is one of the primary reasons for picking Sheffield, and it paid off 10 fold

Jonathan Wright
Undergraduate alumnus
BA International Business Management with Study Abroad
Jonathan Wright, who is half American and half Brazilian, graduated with BA International Business Management with Study Abroad in 2020 and is now working as a Customer Success Associate at Qualtrics in Dublin, Ireland.
The programme Sheffield had on offer is what set it apart from many other programmes I applied to around the world
A representative from the University of Sheffield came to speak at a university fair in my city and did such a good job of telling me what Sheffield is all about, over a year before I ultimately made the decision. Having a study abroad year built into the degree and the promise to facilitate your exchange to fellow world class universities added a whole extra layer to what I could learn and experience in my three years of undergraduate study. Not to mention Sheffield has a great global ranking.
The study abroad year is one of the primary reasons for picking Sheffield, and it paid off 10 fold
I was adamant that I wanted to spend some time studying in Australia, in fact I almost did my entire degree at the University of Sydney, until I saw the opportunity to experience both with Sheffield. SUMS had a process in which we had to shortlist 5 study abroad universities that we are interested in, and after selecting all 5 in Australia, I was extremely pleased to get my top choice, the University of New South Wales (UNSW).
UNSW had a great study abroad infrastructure, and what I found was that even though I was the only person from the University of Sheffield, the orientation was filled with hundreds of international students in a very similar situation to me, making it super easy to make friends from the get go. The big benefit I had was that most of my colleagues were only doing 6 months of study abroad, and Sheffield was one of the few offering a full year, which I felt was crucial to really immerse myself and get the most out of it.
In terms of personal development, there's something to be said for moving so far away and picking up from scratch
It was also a huge opportunity to travel and make friends from around the world, which I made the most of with a highlight being a three week camper trip around New Zealand's South Island with three people I had met the month before.
In regards to the academic side of my year abroad, some highlights include one of my tutorial leaders being the head of marketing for Red Bull, Australia, which ended up being a huge inspiration for me to eventually pursue my masters in marketing. I also had the opportunity to take a module called 'Introduction to Politics and International Relations', and though that wasn't directly related to my degree, it changed my perspective profoundly with a Greek-Australian lecturer who was heavily involved during the Greek financial crisis in 2009. 
The resources and facilities on campus in Sheffield are brilliant!
When I came back to Sheffield for my final year, I was welcomed back openly and still had an amazing year with the same friends that I had made in my first year! The Employability Hub was a great help when it came to building my CV, especially in my final year. The Goodwin Sports Centre was my gym and also where I joined many 5-a-side leagues during my time there. It's one of the best assets at Sheffield! And as for the Students' Union, there's no questioning why it's been consistently voted the best in the country. I loved spending time there between lectures or even to study sometimes. Bar One will likely be my favourite bar for the rest of my life.
I highly recommend getting a season ticket if you're studying at Sheffield!
I was very lucky to be a Sheffield United season ticket holder while studying there (they offer a great student discount) and Sheffield United got promoted to the premier league during my final year, which meant every other week I was attending Premier League matches and surrounded by the best atmosphere in the country.
This programme served as my introduction to doing business and working with people from the UK and Ireland
There were modules, especially in first year, that were completely dedicated to personal development as well, and the wide range of different subjects helped me later decide on what to do in my masters degree!
The study abroad year is what set the programme apart for me, and I appreciate how you are guided through it in the first year and given so many options for where you can apply. The friends I made from the UK and beyond will stick with me for life.
After completing a masters degree, I then got an offer to work at a tech company called Qualtrics
Qualtrics is an Experience Management tool (essentially a powerful survey and data analysis software) that is used by a wide range of Fortune 500 companies, as well as universities around the world (including the University of Sheffield!).
My role covers a wide range of things and falls within the department of 'Customer Success'. This department essentially looks after all our customers' programmes and ensures they are happy and consistently using the platform so that they renew and expand their contracts with us. It's a good middle ground between consulting and sales, and I'm loving how fast moving and open to new ideas the tech sector is in general. I'm also able to work with people in offices across Europe, the USA and Australia.
I started as the first in my specific role globally, and now that I have a larger team, I've been able to take on more of a leadership/enablement role within a year and a half of starting.
My advice for someone looking to study in Sheffield
Take time to enjoy things in addition to your studies, this time goes so fast!
Take advantage of how centrally located Sheffield is and see as much of the UK as you can.
Take advantage of all the resources on offer, like the Employability Hub.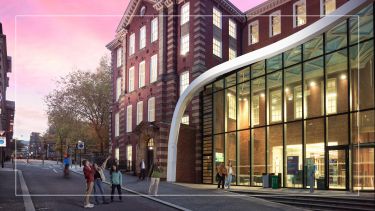 Visit us
Discover what sets Sheffield apart at our undergraduate open days on the Saturday 21 October or Saturday 18 November.