SDG8: Decent Work & Economic Growth
Inclusivity and equality is enforced through working collaboratively with all members of staff and students across the University. Both staff and students are continually supported by various measures to remove any barriers they may face and promote a positive learning and living environment.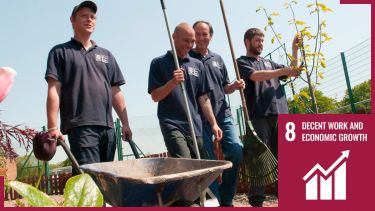 Key facts for how we are achieving SDG8
In August 2022, the University committed an additional £6.3million per year into staff salaries leading to a pay increase for the majority of colleagues, with minimum pay rate increasing to £11.03 per hour 
318 students with work placements (required as part of the course) of more than a month in 2021
Over 1,700 apprentices trained for 450 local companies via our AMRC Training Centre since 2013
---
The university is committed to allowing its employees to work to a hybrid model with a combination of working on campus and remotely, where possible. Hybrid working benefits the work-life balance of our staff, but also allows us to deliver our work more effectively in the long term and support us in creating a more inclusive working environment. We also have a range of generous flexible working policies to support a work-life balance including parental leave, maternity/adoption, carer's leave and paid time off for emergency caring responsibilities which goes above statutory entitlements.
Pay
Our main University pay structure includes grades with a normal expectation of annual progression of approximately 2-3% a year up to the grade maximum. Beyond the grade maximum, there's opportunity for further progression based on exceptional performance.
---
AMRC
The University of Sheffield's Advanced Manufacturing Research Centre (AMRC) has celebrated 20 years of levelling up in South Yorkshire, playing a vital role in job creation, apprenticeship programmes and regeneration in Sheffield, Rotherham and the wider region. The AMRC is a world-leading research and innovation network with more than 120 industrial partners who include Boeing, Rolls-Royce, McLaren Automotive and Airbus. It collaborates with R&D experts to develop and de-risk industry-transforming solutions for companies across the globe, leading manufacturing towards a smart, sustainable and resilient future. The AMRC training centre provides the practical and theoretical skills that manufacturing companies need to compete globally, from advanced apprenticeships through to postgraduate level.
---
Northern Gritstone
Founded by northern universities of Sheffield, Leeds and Manchester, Northern Gritstone is an investment company with the philosophy of 'profit with purpose'. Northern Gritstone focuses on combining profits with wider positive, societal and economic impact in the north of England, promoting employment and skilled workers.
Our sustainability strategy
We have set the principles and direction for our sustainability strategy