Diary project shows wellbeing benefits of allotment gardening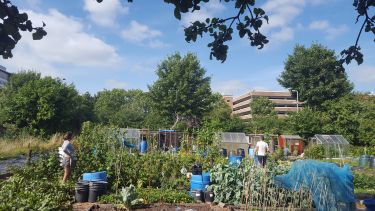 University of Sheffield study finds social and environmental benefits of allotment gardening, including for mental health
163 volunteers in England and Wales kept a year long diary as part of a citizen science project investigating activities on allotment gardens
Study shows importance of allotment space provision for both food security and wellbeing
Allotment holders record positive wellbeing effects of tending to their plots, a new study has found.
In a study published today (2nd November 2020) in the British Food Journal, academics from the University of Sheffield's Department of Animal and Plant Sciences and Institute for Sustainable Food analysed volunteer diaries to assess the social and environmental benefits of allotment gardening.
The results are based on unprompted comments from a year long diary project. This input from the 'notes' section of the diary has given valuable insight into the thoughts of allotment gardeners and the benefits they take from tending to their plots.
Participants recorded high levels of social and community activities including the sharing of surplus food and knowledge, awareness and interaction with wildlife, emotional connection to their allotment, appreciation of time spent outside and aesthetic delight in the natural world around them.
Our research demonstrates that allotments, across the country, provide their tenants with a huge spectrum of benefits beyond fruit and vegetables. Mental and physical health, community resilience, social connection, experiencing nature, and a culture of sharing knowledge and produce were just some of the co-benefits mentioned by our study participants.

It is clear that allotments are a haven for their tenants: with own-growing having exploded in popularity in 2020, this study shows that addressing growing waiting lists and providing more people with space to grow their own food would have a far-reaching positive impact on many aspects of their life.

Miriam C Dobson

PhD researcher at the University of Sheffield and lead author of the study
With recent studies showing locally that we could grow up to 15 per cent of our fruit and veg using urban horticulture, and that allotment land in the UK has been cut by 65 per cent since the 1960s, the study also suggests that increased allotment provision could bring these benefits to many more people.
The MYHarvest project also collects data on the yields that own-growers achieve from their gardens and allotments.
---
Media contact: Rebecca Ferguson, Media Relations Officer, 0114 222 3076, r.l.ferguson@sheffield.ac.uk
The Institute for Sustainable Food at the University of Sheffield brings together multidisciplinary expertise and world-class research facilities to help achieve food security and protect the natural resources we all depend on.
The research was part funded by the Engineering and Physical Sciences Research Council (EPSRC) and the Department of Animal and Plant Sciences at the University of Sheffield.
Flagship institutes
The University's four flagship institutes bring together our key strengths to tackle global issues, turning interdisciplinary and translational research into real-world solutions.