Our funerary archaeology research cluster explores the ritual activities that humanity has used to negotiate the transition from life to death throughout time.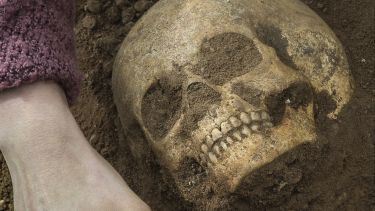 Off
We seek to explore all aspects of the funerary record, drawing on evidence from multiple scales including skeletal remains, grave furnishings, burial form, funerary commemoration, standing structures and landscapes; integrating these more widely with historical records where possible.
Members of this research cluster specialise in a variety of archaeological sub-disciplines including:
Epigraphy
Material culture studies
Thanatology
Human osteology
Zooarchaeology
Stable isotope analysis
We are interested in questions concerning the nature and expression of individual and group identity in both life and death, and social connections evidenced through mortuary behaviour. We have particular strengths in periods spanning the last millennium and in both the study of childhood through funerary remains and in the ritual use of animals.
Our department has a long tradition in championing integrated and holistic approaches to the study of death and burial which we continue to develop through world-leading research projects.
---
Active research projects
Rothwell Charnel Chapel Project

Eaves-drip burial and differential funerary treatment of infants in early Christian cemeteries. Funded by the University of Sheffield Early Career Researcher Scheme.

Scremby Anglo-Saxon Cemetery

An interdisciplinary project focusing on the newly discovered migration-period cemetery at Scremby, Lincolnshire.

Thornton Abbey Mass Grave

Excavation and research into a 14th-century Black Death mass grave.

The Material Body: An Interdisciplinary Study Using History and Archaeology

In collaboration with Karen Harvey, Sheffield. Funded by The British Academy.

Mater Matuta and Related Goddesses: Guaranteeing Maternal Fertility and Infant Survival in Italic and Roman Italy

Funded through the Hugh Last Fellowship at the British School at Rome.

This research project explores the diverse evidence for fertility goddesses and the association of the divine with pregnancy, childbirth, and nursing in late Iron Age and Roman Italy, primarily the 4th to 1st centuries B.C. It assesses the religious context of these deities and examines aspects of their worship and veneration, including especially votive dedications and images of fecundity in Rome, Capua, Satricum and many other central and southern Italian sites.
Researchers
Research staff
Recent publications
Recent publications

Craig-Atkins, E. 2016. Seeking 'Norman Burials', evidence for continuity and change in funerary practice following the Norman Conquest. In Dyer, C. and Hadley, D. M. The Norman Conquest: transformations and continuities. Society for Medieval Archaeology Monograph Series.
Craig-Atkins E. 2014. Eavesdropping on short lives: Eaves-drip burial and the differential treatment of children one year of age and under in early Christian cemeteries. In Hadley, D.M. and Hemer, K.A. (eds). Medieval childhood: archaeological approaches. SSCIP Monograph 3. Oxbow: 95-113.
Hadley, D.M. and Hemer, K.A. (eds.). 2014. Medieval Childhood: archaeological approaches. SSCIP Monograph 3. Oxford, Oxbow.
Hemer, K.A. 2014. 'Are we nearly there yet? Children and migration in early medieval western Britain', in Hadley, D.M. and Hemer, K. A. (eds.). Medieval Childhood: archaeological approaches. SSCIP Monograph 3. Oxford, Oxbow.
2013 Corbino C.A. and P. Mazza, Faunal remains at the castle of Al-Wu'Ayra, in Petra, and at the castle of Shawbak (crusaders' period), Studies in the History and the Archaeology of Jordan XI, Amman, pp.159-164.
Craig-Atkins E. 2012. Chest burial: a middle Anglo-Saxon funerary rite from Northern England. Oxford Journal of Archaeology:31:3 317-37.
M. Carroll, Ethnicity and Gender in Roman Funerary Commemoration: Case studies from the empire's frontiers, in S. Tarlow and L. Nilsson Stutz (eds.), The Oxford Handbook of the Archaeology of Death and Burial, Oxford: Oxford University Press, 2013, 559-579
M. Carroll and J.P. Wild (eds)., Dressing the Dead in Classical Antiquity. Stroud: Amberley Publishing, 2012
M. Carroll and J. Rempel (eds.), Living through the Dead. Burial and Commemoration in the Classical World. Oxford: Oxbow, 2011
2011 'Burial in the Bosporan kingdom: local traditions in regional context(s),' in M. Carroll and J. Rempel (eds) Living Through The Dead: Burial and commemoration in the Classical world, 21-46. Oxbow.
M. Carroll and J. Rempel (eds). 2011. Living through the Dead: Burial and commemoration in the Classical world. Oxbow.
2011 Affuso A. and C.A. Corbino. Ambiente e strategie economiche nel Metapontino dal Neolitico al Medioevo, Studi per l'Ecologia del Quaternario, Firenze, pp. 15-25.
Related postgraduate courses
Flagship institutes
The University's four flagship institutes bring together our key strengths to tackle global issues, turning interdisciplinary and translational research into real-world solutions.