Biology at Sheffield covers all types of organisms - microbes, plants, animals and humans - and all the scales of biology - from cells to ecosystems. We offer you breadth, depth and choice as you study, so you can specialise as much or as little as you like.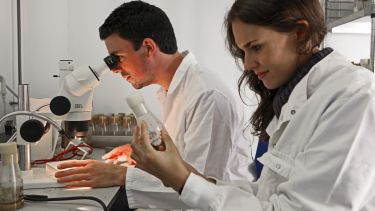 Courses with a placement year 
 Courses with a year abroad 
 Courses with a foundation year
---
Our flexible Biology courses cover the full breadth of biological sciences. You'll learn about how cells and genes work, how organisms age, how populations evolve, and how organisms and ecosystems function.
You'll also discover how we can work towards solving pressing global challenges including antibiotic resistance, ageing, biodiversity, sustainability and climate change.
Top 10 in the UK for Biological Sciences
The Times and Sunday Times Good University Guide 2020
All of our courses start with an essential set of core modules designed to give you the skills that every professional biologist needs. Alongside these you'll have the opportunity to study optional modules that span zoology, ecology and conservation biology, and plant sciences.
Our courses are designed for students who are looking to explore the breadth of whole-organism biology, with the freedom to specialise as much or as little as you like.
---
---
As a biology student you'll learn in lots of different ways, from lectures and small group tutorials where our world-leading academics will share their latest research findings with you, to learning by doing during research projects, practical lab sessions, and field trips.
Explore the course structure and content
Our staff are committed to great teaching and you'll have lots of opportunities throughout your degree to be creative, think independently, and express your ideas. 
You'll be building your knowledge and capacity to do science during research projects, in-depth lab practicals, exploring local field sites applying your new skills, embarking on once-in-a-lifetime field courses, and getting the opportunity to share your knowledge with the general public through modules in science communication.
All giving you plenty of chances to gain new skills and experience to put on your CV.
Find out more about our teaching
---
Project work is built into our degrees from the beginning, from field courses, to research projects based around first and second year modules on genetics, computer modelling, behaviour, species interactions, conservation and climate change.
In your third year, you'll get the opportunity to complete a major research project and dissertation in an area of biology that interests you.
Conducted under the supervision of one of our world experts, you'll work in a small group to define questions, develop experimental protocols, conduct the research, analyse the data and ultimately produce a written report in the form of a scientific publication. Example research projects include:
Conservation of coral reefs under climate change;
Linking SNP genotypes to local human adaptations; an analysis of adaptation frequencies in ancient DNA;
Alternative methods for measuring climate-induced changes in vegetation phenology.
Our integrated masters course allows you to complete a further in-depth research project whilst embedded in one of our specialist research groups.