In the lab, biomedical science students will examine diseases from their basis in cells and genes, right up to whole body systems and human dissection. As you progress through your degree, you'll have plenty of opportunities to apply your anatomical knowledge to forensic science and organ donation.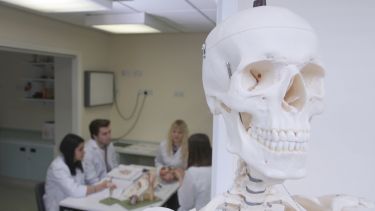 The University of Sheffield is one of only a few universities in the UK to offer undergraduate biomedical science students the opportunity to perform whole body human anatomical dissection. Dissection classes in second year, which are taught in the University's dedicated Medical Teaching Unit, cover the location and relationship of structures within the thorax, limbs, abdomen, pelvis and head, and provide an excellent foundation for understanding human physiology and developmental biology.
My time in Sheffield has paved the foundations for my Postgraduate Medical Degree. Since moving to Australia to study medicine, I have realised how well prepared I was through the Biomedical Science course in Sheffield. The anatomy classes in particular were amazing, and students had ample chances to practice dissection techniques while learning about the human body.

Teresa Liew

BSc Biomedical Science
---
Organ donation project
The Organ Donation project sees groups of our students working together to come up with innovative ways to solve the real-life problem of the shortage of registered organ donors in England. During the project, our students work in small teams to create effective campaigns targeted at young adults to encourage more people to sign the organ donation register. It's also a great chance to get lots of new skills to put on your CV.
---
Forensic anatomy
As you progress through your degree, you'll have additional opportunities to apply your anatomical knowledge to forensic science. Taught in collaboration with the police, forensic teams and the Coroner's Office, you can learn how experts can determine a person's cause of death and identity, covering topics including facial reconstruction, forensic anthropology, DNA fingerprinting and weapons analysis.
---
Forensic Facial Reconstruction: Finding Mr X
For an insight into some of our teaching, you can take our Lead Anatomist Professor Katherine Linehan's online course, which is based on a real-life mystery of a body in a bag. You'll learn from the experts who worked to determine the identity of Mr. X, and discover the forensic science techniques that were used to identify the body and understand the circumstances surrounding their death.
Explore the University
Discover why Sheffield is the right choice for you at one of our open days or events.