Creative, critical, civic-minded and collaborative, the School of English at the University of Sheffield is one of the largest English departments in the UK.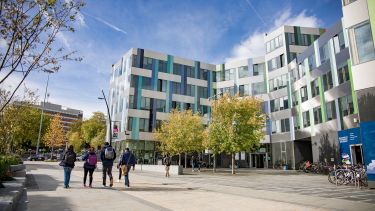 Off
We are an interdisciplinary department, bringing together the study of literature, language, linguistics, theatre, film and creative writing to form a community that is unique in the world in its breadth and depth of study of the English language.
Research
Research is at the heart of everything we do here at the School of English, from our public activities to our research-led teaching. In the latest Research Excellence Framework (REF 2021), 90 per cent of our research was rated in the highest two categories, meaning it is classed as world-leading or internationally excellent. We are also rated top nationally for the quality of our research environment, showing that the School of English is a vibrant, creative and supportive place to undertake research.
We have a thriving research environment, with world-leading experts in English literature, language, linguistics, theatre, film and creative writing. We also have the largest group of researchers in the UK working on the intersection of language and literature.
The interdisciplinary nature of the School of English provides unique opportunities for cross-departmental and collaborative research. A selection of our centres for research demonstrates the breadth of our interests:
Centre for Linguistic Research
Centre for the History of the Gothic
Centre for Poetry and Poetics
Literary Linguistics Research Cluster
Sheffield Animals Research Colloquium
Sheffield Centre for Research in Film
Sheffield Institute for Interdisciplinary Biblical Studies
For a full selection of our research centres, please see the Research section of our website. 
---
Studying with us
Our world-leading research, active student community and civic ethos makes Sheffield one of the world's most exciting places to study English. Our academic staff are experts in their field and use their cutting-edge research to inform their teaching and the content of the modules our students study.
We see our students as integral members of our research community. They are encouraged to be active participants in learning from the moment they arrive, working collaboratively with academic staff to become independent, critical and creative thinkers.
The flexibility offered by our taught courses, as well as the interdisciplinary nature of the School of English, means our students are able study modules from across our programmes, tailoring their course to suit their interests or pushing the boundaries of what the study of English means to them.
---
Public activities
We maintain strong links with our local community, using our research to inform and support projects that have a real-world impact in our city and region. Here are some examples of the projects we are currently working on or involved with:
English in the City
English in the City is a brand new outreach group run by student volunteers. This is the first year that it will be running! Examples of the outreach that might be run include mentoring GCSE & A Level students, hosting creative writing workshops in primary schools, creating YouTube videos with tips for parents, putting together a digital magazine or starting a UoS book club. We aim to work with both students in local schools and people in the wider community.
Literature of the English Country House
Literature of the English Country House is an online course that is free to access all over the world. Developed by the University's Digital Learning Team in partnership with academic staff from the School of English, the course allows participants to explore literature's fascination with the country house through the works of Oscar Wilde, Jane Austen, Charles Dickens and Ann Radcliffe, among others. Through this exploration, participants learn how to develop their close-reading skills, build their own literary interpretations of texts and to examine literature within its historical, political and social contexts. 
Literature of the English Country House
Grimm & Co
Grimm & Co is a registered charity supporting under-resourced children and young people aged 7 to 18 with their confidence and skills around creativity and writing. We know that strong writing skills and an ability to imagine beyond what we experience are fundamental to future success, so children and young people are encouraged to discover creativity and imagination through artists, one-to-one mentoring and exciting projects which spark motivation to write.
MA Work Placement
MA students in the School of English have the opportunity to undertake a 100-hour integrated work placement as part of their degree programme. Our placement students work across a variety of sectors throughout Yorkshire and Derbyshire, including: heritage and tourism, archives, charities,  galleries and arts performance, publishing; events organisation, health and wellbeing, and more. Our partner organisations include Bank Street Arts, Bloc Projects, Chatsworth House, Film Hub North, Grimm & Co., Recovery Enterprises, Renishaw Hall, Sheffield Archives, and Sheffield newspapers - and this list continues to grow.
---
More about the department
A global reputation
Sheffield is a research university with a global reputation for excellence. We're a member of the Russell Group: one of the 24 leading UK universities for research and teaching.