Once you know what you would like to study, it's important to find a supervisor who is an expert in the area, and who can guide you through the three-year programme. This is the first step in the application process.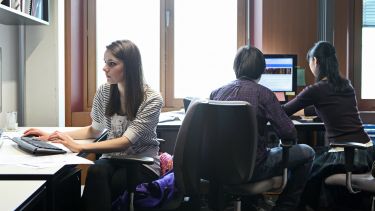 The School of English hosts a broad spectrum of researchers with expertise across linguistics, literature (including creative writing and film), literary linguistics, theatre, and the intersections between these fields.
Find a PhD supervisor by subject area
Creative Writing

Film

Language and Linguistics

Literature

Theatre and Performance
The roles of different types of supervisors
Primary supervisors
Primary supervisors are responsible for all communications regarding the student's progress to their funding body, to faculty and to the course manager. The primary supervisor is responsible for scheduling meetings, commenting on drafts, and determining the overall pattern of work in negotiation with the student.
---
Second supervisors
Second supervisors are responsible for providing general support and advice as appropriate (for instance on issues in their areas of specialised competence such as methodology). In the first month of registration, the student should meet at least once with their second supervisor.
In some instances it may be appropriate for particular supervisory sessions to involve both primary and secondary supervisors. This is a matter of negotiation between the supervisors and the student.
---
Joint supervisors
We would normally expect supervision sessions to involve both supervisors. This is especially the case in the first semester. At the end of the first semester the supervisors and student should have negotiated how they want the supervision to be shared and the responsibilities of each supervisor.
---
Supervision meetings
For full-time research students, we would expect supervisory meetings to be held once per month. Allowing for holidays, this would equate to a minimum of 10 supervisory sessions per year. For part-time students, we would expect a minimum of six meetings per year.
In the first semester of registration, supervisory meetings will probably need to be more frequent and as a general rule meetings should be once every two weeks.
---
Next steps
Once you have found a suitable supervisor, please email them directly to ensure that they have availability. You may wish to provide some information on your proposed research as well, to make sure that it is in an area they are able to supervise.
At any step in the process, you can also email english@sheffield.ac.uk for information about the application process.
For more information, check out the PhD Supporting Statement page.
Find a PhD
Search for PhD opportunities at Sheffield and be part of our world-leading research.