Information for current students.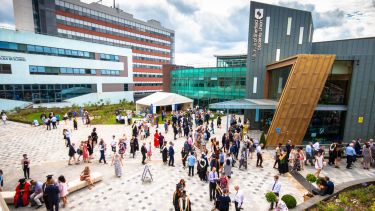 The English Hub is an online handbook for current students. You can use it to find information and guidance on numerous areas, including:
Assessment (including submission guidance, word counts and late submissions)
Module choice
Accessing your results
Semester dates
Extenuating circumstances
Plagiarism and unfair means
Feedback
You can also find the Theatre Workspaces Booking Calendar. 
---
Blackboard
Blackboard is the University of Sheffield's digital learning platform. Blackboard is accessible through MUSE and contains additional resources for all of your modules, including lecture slides, lecture recordings, seminar reading, online discussions, tasks and other relevant supporting materials.
---
University Library
The University's wide range of electronic resources, including databases, e-books and e-journals are available to all registered students through MUSE.
---
Personal tutoring
A Personal Tutor is an academic member of staff who is there to support you both throughout your degree and afterwards. They are your first point of call within the School of English for both academic and personal matters, and will be able to help you access additional support should you need it.
You will be allocated a Personal Tutor shortly after the start of your first year. We will make arrangements for you to meet your Personal Tutor at the beginning of your course and at least once per semester throughout your degree.
However, if you are experiencing difficulties, don't wait for your scheduled meeting -  email or phone your Personal Tutor to ask for an appointment, or visit your Personal Tutor during their office hours. Your Personal Tutor may also request to see you if, for example, you miss seminars without explanation.
If you require further support, your Personal Tutor can direct you towards the wide range of specialised help available at the University of Sheffield, such as the Careers Service and Student Mental Health, Counselling and Therapies Service.
In all but exceptional circumstances, any information you give to your Personal Tutor will be treated as confidential, if requested. All personal information held by departments will be handled in accordance with the University's Data Protection Policy and Procedures.
---
Staff-Student Committee
We have active Staff-Student Committees at both undergraduate and postgraduate level, with student representatives from across the School's various programmes. To find out who your course representative is and how you can get involved, check the "Student Staff Committee" section in Blackboard, or the noticeboard on Level 5 of Jessop West (Postgraduate Committee).
---
Student support and resources
There are many excellent support services and other resources available to you as a student in the School of English. Here are some that you may find particularly helpful:
---
Ethics approval for research
Whether you are an undergraduate, masters or postgraduate research student, if you do research that involves human participants, you must apply for ethical approval.
University research ethics policy
Ethics applications must be submitted online. There is no deadline for submitting ethics applications, unless you are a student studying on the MA in Applied Linguistics with TESOL programme (MAAL). MAAL students must submit ethics applications by 1st June at the latest. We aim to process applications within two weeks from submission, but some cases may take longer (e.g. where revisions or extra documents are required).
A formal letter of approval will be sent to you by email once your application had been approved by the School's ethics committee. You will also be able to download it in PDF format from your 'Ethics Application System' page on MUSE. You must not start collecting your research data prior to receiving this letter.
Please visit the Ethics Application System for guidance - you can log in using your University username and password. There is also further guidance on how to apply for ethics approval available on the University's research ethics policy webpages.
---
School of English Reception
The School of English Reception is located on Level 1 of Jessop West. You can contact us with any administrative queries, such as changing seminar times, requests about scheduling, and submitting extenuating circumstances forms and other documents. We are open Monday to Friday, 9am-5pm, both in term-time and during the holidays.
A world top-100 university
We're a world top-100 university renowned for the excellence, impact and distinctiveness of our research-led learning and teaching.