See how an English degree from Sheffield can help you develop a wide range of skills that will help you succeed in any career.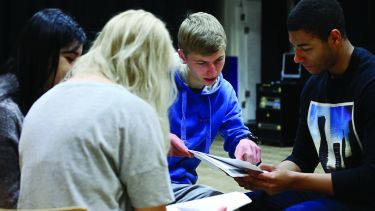 Off
Our approach to your skills development as a student in the School of English is simple, it's in everything we do. Throughout your studies, we will support you to gain and develop essential attributes we know to be valued by employers, including:
High-level written and verbal communication skills

In many of our modules students demonstrate their knowledge and understanding by writing essays, a process that prepares them well for the kinds of writing that are required in many workplaces: marshalling evidence, structuring material, developing an argument, and writing clearly are all valuable transferable skills. Meanwhile, small-group discussion is at the heart of our teaching and this prepares students to speak clearly, effectively, and with respect for others on a range of complex topics.

Adaptability and creativity

The English curriculum includes plenty of opportunities for creative practice - both creative writing and theatre are popular aspects of our courses and some of our literature modules allow you to produce a creative response to the material. But you also need to think creatively in linguistics when you are devising ways of collecting data about language use in the real world. 

Problem solving

Learning linguistics involves looking closely at linguistic data and trying to find the patterns in it. This is like solving a puzzle and provides a great training in looking at complex situations and working out what is going on.

Digital fluency

Many of our modules use a range of innovative assessments that can include making films or podcasts, creating interactive digital narratives, recording speech and developing a computerised analysis of it, delivering presentations, working with publishing software, locating evidence in databases, and using search tools to develop 'big data' analyses.

The ability to collaborate, influence and be a leader

A number of our modules require students to work in groups and develop both creative and analytical work collaboratively. In this context it is important to be able to influence the members of your team and provide leadership in particular aspects of the work.

Independent thinking, self-awareness, and autonomy

The study of English focuses on human experience and the ways in which we represent it in language. Hence our subject promotes a reflective approach to the human world and encourages us to think about our own experience and how it relates to that of other people. Throughout all our courses there are opportunities to develop projects under your own steam - from small scale pieces of research early in the degree up to a substantial independent project in our dissertation modules.

Critical reasoning and analysis

In all areas of English critical reasoning is crucial. All our work focuses on complex aspects of human life and aims to explore them in a rational and principled way. In Literature you might be concerned with the ways in which a literary text reflects the political climate in which it was written.
A world-class university – a unique student experience
Sheffield is a research university with a global reputation for excellence. We're a member of the Russell Group: one of the 24 leading UK universities for research and teaching.