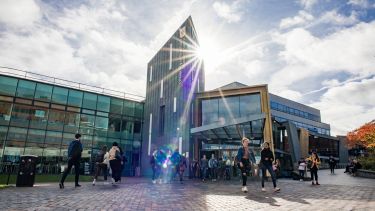 Welcome from the EngSoc President
Congratulations on being accepted into the school of English at the University of Sheffield! Welcome new and continuing members of the English Society (EngSoc). 

The English Society is a society for all English students, whether that is Literature, Linguistics, or all the other amazing courses that are a part of the School of English. We hold numerous events throughout the year, such as our annual winter and summer balls and regular social events. We also have two sports teams, our EngSoc Football and Netball teams practise regularly and take part in matches against other societies. We work closely with the school but we are an external student run society providing support and fun activities to all members. This society is a great way to make friends on your course and on similar course, with similar interests in English. We are an inclusive society who also host 'sober socials' and charity events throughout the year. 

We aim to provide an environment that is fun, comfortable, inclusive and welcoming for all students and aim to create many positive university experiences. We are here to support you at all times.

We look forward to meeting you. Welcome to the English Society! 

Josie Isle

EngSoc President 2022-2023
---
Why join EngSoc?
EngSoc is a hub for all students in the School of English to meet and get together. It is a chance to make friends on your course, courses similar to yours, and just join in with university life!
From themed socials and bar crawls to a Christmas ball, as well as a range of other events running throughout the year, joining EngSoc is a great way to meet other students in a relaxed environment. And we're always open to new ideas and suggestions! 
EngSoc members also enjoy exclusive discounts and deals at our sponsors' venues - find the full list of places on our social media!
You also have the opportunity to give back! Each year, EngSoc partners up with a charity to help make a difference. And we're always looking for new volunteers! See our social media for updates on our chosen charity, and what you can do to help out this year!
Are you a sporty person? We here at EngSoc are proud of our football and netball teams - there's something for everyone! Help us bring home the trophy! With regular training sessions, matches, and socials, our teams are perfect for everyone! Whether you've never picked up a football in your life, or are an old pro - come show off your skills!
---
Who are we?
All of us here at EngSoc are a friendly, smiley bunch, with a mix across the board of second, third, and masters students, and we're always looking for fresher representatives!
Our social media and email are always open for questions, suggestions, or even just a quick chat; follow us on all our social media and keep up to date with what we're doing!
Email: english.society@sheffield.ac.uk
---
How do I join?
For £8 for the entire year, EngSoc members receive exclusive access to our social events, our discounts, as well as getting involved with the society! Memberships can be purchased on the SU website. Message us for more information.
A world-class university – a unique student experience
Sheffield is a research university with a global reputation for excellence. We're a member of the Russell Group: one of the 24 leading UK universities for research and teaching.