Professor Joanna Gavins
School of English
Professor of English Language and Literature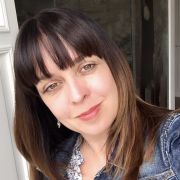 Profile

I am a Professor of English Language and Literature and have worked at the University of Sheffield since 2000. My central research interests are in the relationships between language, literature, and cognition, and I teach courses in stylistics, cognitive linguistics, and cognitive poetics.

I am the author of:

I am Editor of the John Benjamins book series Linguistic Approaches to Literature and Director of the Text World Theory Special Collection at the University of Sheffield.
Research interests

My research centres around the cognition of linguistic style in both literary and non-literary discourse. My work is interdisciplinary in nature and draws upon knowledge from the cognitive sciences in order to understand how human beings conceptualise and experience language.

Throughout my academic career, I have been principally focused on development of Text World Theory, a cognitive-linguistic model of human discourse processing, and its application to literary discourse in particular. I am the Director of the Text World Theory Special Collection, housed in the University's Western Bank library, and my monograph on text-worlds, Text World Theory: An Introduction, was published in 2007.

I also co-edited a collection of leading-edge research on text-worlds, World Building: Discourse in the Mind, with Ernestine Lahey in 2016. For more information about the text-world approach to discourse, including its use in secondary school English education, please visit the Text World Theory website.

My development of the Text World Theory framework over the last two decades has been facilitated to a great extent through the exploration of challenging experimental literature. Much of my early research looked at the cognition of Absurdist prose fiction and poetry, culminating in my 2013 book, Reading the Absurd.

My more recent work on literary style has centred chiefly around the cognitive experience of reading contemporary poetry and I am currently completing a monograph for Edinburgh University Press entitled Poetry in the Mind: The Cognition of Contemporary Poetic Style.

I am also currently running a research project with my colleague, Dr Sara Whiteley, on Linguistic Creativity in the Discourse of National Trust Holiday Cottage Guestbooks. The project is funded by the British Academy and the Leverhulme Trust and examines the language used by visitors to The National Trust's holiday rental cottages in the guestbooks situated in each property. It examines the highly creative discourse used in guestbooks, which provides a unique, permanent insight into otherwise transitory thoughts and interactions.

I am a member of the Poetics and Linguistics Association and served as Assistant Editor of the association's journal, Language and Literature, from 2009 to 2014. I am also Editor of the John Benjamins book series Linguistic Approaches to Literature.
Research group

I welcome applications from potential PhD students in all areas of stylistics, cognitive linguistics, and cognitive poetics, particularly Text World Theory.

I am currently supervising PhD projects on the text-worlds of pre-school children's storytime; the cognition of comic book narratives of mental health; liminal and uncanny text-worlds in contemporary poetry; and the style of Margaret Atwood's autobiographical writings.

My previous PhD students have included:

Dr Jessica Norledge (2016) Reading the Dystopian Short Story
Dr Isabelle van der Bom (2015) Text World Theory and Stories of Self: A Cognitive Discursive Approach to Identity
Dr Helen Mort (2014) 'Something Else, then Something Else Again': Neuroscience and Connection-Making in Contemporary Poetry
Dr Sam Browse (2013) (Mega-)Metaphor in the Text-Worlds of Economic Crisis: Towards a Situated View of Metaphor in Discourse
Dr Sara Whiteley (2010) Text World Theory and the Emotional Experience of Literary Discourse
Dr Alison Gibbons (2008) Towards a Multimodal Cognitive Poetics: Three Literary Case Studies
Dr Alice Bell (2006) The Possible-Worlds of Hypertext Fiction
Teaching activities

My main undergraduate teaching responsibilities are on the BA in English Language and Literature degree. I teach stylistics and cognitive linguistics at undergraduate level and also offer a Level Three module on my own specialist area of research, Text World Theory. At postgraduate level, I teach modules on stylistics and cognitive poetics. 
Selected publications

Books

Gavins, J. and Lahey, E. (eds) (2016) World-Building: Discourse in the Mind, London: Bloomsbury Academic.
Armitage, S., Gavins, J., Sansom, A. and Sansom, P. (eds) (2014) CAST: The Poetry Business Book of New Contemporary Poets, Sheffield: Smith Doorstop.
Gavins, J. (2013) Reading the Absurd, Edinburgh: Edinburgh University Press.
Gavins, J. (2007) Text World Theory: An Introduction, Edinburgh: Edinburgh University Press.
Gavins, J. and Steen, G. (eds) (2003) Cognitive Poetics in Practice, London: Routledge.  [Japanese translation by Shigeko Uchida published by Tuttle Mori in 2008]

Articles and chapters

Gavins, J. (2016) 'Stylistic interanimation and apophatic poetics in Jacob Polley's "Hide and Seek"', in J. Gavins and E. Lahey (eds) World Building: Discourse in the Mind. London: Bloomsbury, pp.276-92
Gavins, J. and Lahey, E. (2016) 'World building in discourse', in J. Gavins and E. Lahey (eds) World Building: Discourse in the Mind. London: Bloomsbury, pp.1-13
Gavins, J. and Simpson, P. (2015) 'Regina v John Terry: the discursive construction of an alleged racist event', Discourse and Society, 27(1)
Gavins, J. (2015) 'Text World Theory', in V. Sotirova (ed.) The Bloomsbury Companion to Stylistics. London: Bloomsbury, pp.444-57 G
Gavins, J. (2014) 'Metaphor studies in retrospect and prospect: an interview with Gerard Steen', Review of Cognitive Linguistics, 12 (2)
Gavins, J. (2014) 'Defamiliarisation', in P. Stockwell and S. Whiteley (eds) The Cambridge Handbook of Stylistics. Cambridge: Cambridge University Press, pp.196-211
Gavins, J. (2012) 'Leda and the stylisticians', Language and Literature, 21(4): 345-62 Gavins, J. (2012) 'The literary absurd', in J. Bray, A. Gibbons and B. McHale (eds) The Routledge Companion to Experimental Literature. London: Routledge, pp.62-74
Gavins, J. and Stockwell, P. (2012) 'About the heart, where it hurt exactly, and how often', Language and Literature, 21(1): 33-50
Gavins, J. (2010) '"Appeased by the certitude": the quiet disintegration of the paranoid mind in The Mustache', in D. McIntyre and B. Busse (eds) Language and Style. Basingstoke: Palgrave MacMillan, pp.402-18
Gavins, J. (2007) '"And everyone and I stopped breathing": familiarity and ambiguity in the text-world of "The Day Lady Died"', in M. Lambrou and P. Stockwell (eds) Contemporary Stylistics. London: Continuum, pp.133-43
Gavins, J. and Hodson, J. (2006) 'When the students become the teachers: practical pedagogical stylistics with third-year undergraduates', in G. Watson and S. Zyngier (eds) Literature and Stylistics for Language Learners: Theory and Practice.Basingstoke: Palgrave, pp.27-36
Gavins, J. (2005) 'Text World Theory in literary practice', in B. Petterson, M. Polvinen and H. Veivo (eds) Cognition in Literary Interpretation and Practice. Helsinki: Helsinki University Press, pp.89-104
Gavins, J. (2005) '(Re)thinking modality: a text-world perspective', Journal of Literary Semantics, 34 (2): 79-93 Gavins, J. (2003) '"Too much blague?" An exploration of the text worlds of Donald Barthelme's Snow White', in J. Gavins and G. Steen (eds) Cognitive Poetics in Practice. London: Routledge, pp.129-44. [Reprinted in 2008 in R. Carter and P. Stockwell (eds) The Language and Literature Reader. London: Routledge, pp.255-67.]
Steen, G. and Gavins, J. (2003) 'Contextualising cognitive poetics', in J. Gavins and G. Steen (eds) Cognitive Poetics in Practice. London: Routledge, pp.1-12
Gavins, J. (2000) 'Absurd tricks with bicycle frames in the text world of The Third Policeman', Nottingham Linguistic Circular, 15: 17-33