Dr John Miller
Senior Lecturer in Nineteenth-Century Literature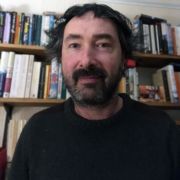 Profile

I arrived in Sheffield in 2012 to take up a lectureship in Nineteenth-Century Literature and was appointed Senior Lecturer in 2016. I am President of the Association for the Study of Literature and Environment (UK & Ireland); co-director of the Sheffield Animal Studies Research Centre and co-editor of Palgrave Studies in Animals and Literature.
Research interests

My research focuses on writing about animals, ecology and empire from the nineteenth century to the present, with particular emphasis on the late Victorian period. My first monograph Empire and the Animal Body (Anthem, 2012) explored the representation of exotic animals in Victorian and Edwardian adventure fiction. My second book was the co-authored volume Walrus for the Reaktion Animal series. I am currently near to completing a monograph titled Victorians in Furs: Fiction, Fashion and Activism. I have started work on my next project, A Literary History of In Vitro Meat which examines the origins of cultured flesh in the late nineteenth century and traces its development in imaginative literature through to the present. I am also contributing co-editor of The Dictionary of Neoliberal Terms and have recently edited a collection of stories about tattooing for the British Library.
Publications

Books

Edited books

Journal articles

Chapters

Book reviews
Research group

I would be very happy to supervise projects relating to any aspect of my research, particularly animals and/or ecology in Victorian literature and culture, adventure fiction, the Arctic, and the literary representation of tattoos and tattooing.
Teaching activities

I teach mainly in modules on the nineteenth century and in relation to animal studies and ecocriticism. Courses closely related to my research interests include:

LIT115: Darwin, Marx, Freud
LIT271: Radical Theory
LIT275: Literature, Ecology, Capital
LIT6045: Humans, Animals, Monsters and Machines from Gulliver's Travels to King Kong
LIT637 Victorian Bodies
Public engagement

I have a strong interest in the links between environmental aesthetics, conceptions of environmental and species value and public policy. I organised open sessions on these and related topics at the conferences Modern Environments: Contemporary Readings in Green Studies at the University of Glasgow in 2007 and Activism, Apocalypse, and the Avant-Garde at the University of Edinburgh in 2008. In 2015, as part of Sheffield's Festival of Arts and Humanities, I ran a day of events under the title Caring for Sheffield's Woodlands.