Dr Carmen Levick
School of English
Lecturer in Theatre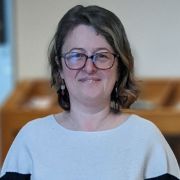 Profile

I joined the School as Lecturer in Theatre in 2009, after two years teaching drama at University College Dublin.

I studied English and Spanish for my undergraduate degree at Babes-Bolyai University in Cluj-Napoca, Romania, and I completed my MA in Irish Cultural Studies at the same University.

I moved to University College Dublin in 2002 where I completed my PhD in theatre studies, focusing on the Field Day Theatre Company and political theatre in Northern Ireland. My thesis was published as a monograph in 2007 by Cambridge Scholars Publishing with the title: Clearing the Ground: The Field Day Theatre Company and the Construction of Irish Identities.

My current research and teaching interests include: representations of revolutions in performance and Shakespeare in performance and physical theatre. I am fascinated by game and play theories and the ways in which these influenced contemporary actor training and performance in Europe.

I am particularly interested in political theatres especially in Eastern Europe and I am currently working on a monograph exploring the performative representations of revolution in Eastern Europe.

Given my continuous fascination with Shakespeare´s plays in production and in the classroom, I completed an MA in Shakespeare and Education at the University of Birmingham, the Shakespeare Institute, Stratford-upon-Avon.
Research interests

I have published chapters and articles on varied topics including contemporary performances of Shakespeare´s plays, physical theatre, political theatre, globalization, Irish theatre and performance art. Currently I am working on a monograph mapping the performative representations of revolution in Eastern Europe.

I have recently completed a monograph which was published in September 2012 by Carysfort Press, Dublin, telling the story of one of the most important Irish physical theatre companies, Barabbas Theatre Company.

I am interested in Enterprise Education and the various ways in which it can be embedded in the curriculum. For my story in Enterprise Education see
http://enterprise.shef.ac.uk/success-stories/carmen-szabo-lecturer-theatre
Publications

Books

Journal articles

Chapters

Book reviews
Research group

I welcome PhD applications on performance studies, physical theatre practice, Shakespeare in performance, globalization and theatre, and contemporary European theatre.
Teaching activities

At undergraduate level I teach on a variety of modules, including Interpreting Texts (EGH115), Making Texts (EGH116), Introduction to Theatre (LIT180), Introduction to Cinema (LIT181), Performance One (LIT235), Shakespeare on Film (LIT257), Performing Shakespeares (LIT3042), etc.

At postgraduate level I teach on Theatre Practice I and Theatre Practice II.