Professor Cathy Shrank
School of English
Deputy Head of School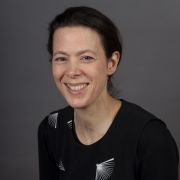 Profile

My research focuses on early modern (or Renaissance) literature and culture. My interest in this area dates back to my undergraduate degree at the University of Cambridge. I stayed on at Cambridge to do an MPhil in Renaissance Literature.

During that time, I discovered a particular enthusiasm for Tudor writing, which I then developed during my PhD on sixteenth-century humanism and national identity. My work ranges from the late fifteenth to the late seventeenth century, and moves between poetry, prose, and drama, and between texts in manuscript and print.

I moved to Sheffield in 2005, after stints at King's College London and the University of Aberdeen.
Research interests

My publications are mainly on sixteenth and early seventeenth-century literature. In 2004 I published Writing the Nation in Reformation England, 1530-1580 (Oxford University Press). This book offers a re-evaluation of a neglected, but important, period of English writing, during which English national identity was hotly contested. The Oxford Handbook of Tudor Literature, 1485-1603, co-edited with Mike Pincombe, was published in 2009 by Oxford University Press (paperback 2011).

This is the first major collection of essays to look at the literature of the entire Tudor period, from the accession of Henry VII to the death of Elizabeth I, and its 45 chapters pay especial attention to the decades before 1580; it was awarded the Sixteenth Century Society's Ronald H. Bainton Prize in 2010.

I have also published on Shakespeare, including editing Coriolanus for the third edition of the Norton Shakespeare (2015). Other editorial projects include Shakespeare's Poems, co-edited with Raphael Lyne (Routledge, 2018), and Philip Massinger's City Madam (Globe Quartos, 2005; republished 2010 to accompany the production of the play by the Royal Shakespeare Company).

From 2005-2008, I was primary investigator for the `The origins of early modern literature: recovering mid-Tudor writing for a modern audience´, funded by the Arts and Humanities Research Council. Besides the Tudor Handbook, this project produced an on-line annotated catalogue of literary texts, printed in English 1519-1579. See: The Origins of Early Modern Literature

Current research includes finishing a monograph on dialogue from the late medieval period to the Exclusion Crisis (generously funded by a Leverhulme Major Research Fellowship 2015-18). I am also one of the General Editors of the AHRC-funded Oxford Works of Thomas Nashe and am editing William Tyndale's Parable of the Wicked Mammon for the NEH-funded Independent Works of William Tyndale.

In short, I have a wide range of research interests across the sixteenth and early seventeenth centuries, stretching from the most canonical early modern writers (Shakespeare!) to obscure figures and neglected texts (one of my current favourites is Thomas Lodge's 1591 adaptation of the legend of 'Robert the Devil').

Forthcoming work includes articles and essays on Thomas Wyatt and Henry Howard, Earl of Surrey; citing Scripture in late medieval and early modern drama; the marital correspondence of Sir John Cheke; Roger Ascham's Toxophilus; and early modern English translations of Erasmus' colloquies.
Publications

Books

Edited books

Journal articles

Chapters

Book reviews

Conference proceedings papers

Scholarly editions
Research group

I welcome applications from potential research students in any area of sixteenth- and seventeenth-century literature and culture.

Current and former PhDs include projects on Post-War Polish productions of A Midsummer Night's Dream; representations of Thomas Wolsey from Skelton to Shakespeare; Tudor women writers; a comparative study of the influence of Galen in England and Italy; and editions of a number of important early manuscripts (Burley; V&A Dyce MS 44; BL Harleian MS 7392(2); BL Additional MS 36529).
Teaching activities

My teaching at undergraduate and Masters level mainly focuses on the period 1600-1800.