Dr Agnes Lehoczky
Senior Lecturer in Creative Writing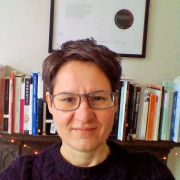 Profile

I studied for my Masters in English and Hungarian Literature at Pázmány Péter University of Hungary (1994-2001) then completed a Creative Writing MA in Poetry at the University of East Anglia with a distinction in 2006. I obtained a PhD in Critical and Creative Writing at UEA in 2011. The research ran under the supervision of Professor Denise Riley, Dr George Szirtes and Dr Jeremy Noel-Tod where I was also teaching Creative Writing Poetry and Prose modules on the undergraduate programme in 2008-2010.

I was the winner of the Arthur Welton Poetry Award 2010 and the inaugural winner of the Jane Martin Prize for Poetry at Girton College, Cambridge, in 2011. I was Hungary's representative poet for Poetry Parnassus at Southbank Centre during London's Cultural Olympiad in Summer 2012. My previous poetry collections published in the UK are Budapest to Babel (Egg Box Publishing, 2008), Rememberer (Egg Box Publishing, 2012), Carillonneur (Shearsman Books, 2014) and Swimming Pool (Shearsman Books, Autumn, 2017) and I've recently co-edited two anthologies: The World Speaking Back To Denise Riley with Zoë Skoulding (Boiler House Press, 2018) and Wretched Strangers, Borders, Movement, Homes with J. T. Welsch (Boiler House Press, 2018).

My collection of essays, Poetry, the Geometry of the Living Substance on the poetry of Ágnes Nemes Nagy, was published in 2011, and my libretto commissioned by Writers' Centre Norwich & The Voice Project was performed at Norfolk and Norwich Festival 2011. I co-edited Sheffield Anthology; Poems from the City Imagined (Smith / Doorstop, 2012) with Adam Piette.

My chapbook, Poems from the Swimming Pool with some of the early work on swimming pools, was published by Constitutional Information in 2015 and my pamphlet, Pool Epitaphs and Other Love Letters, was published by Boiler House Press in 2017. I am Director of the Centre for Poetry and Poetics, University of Sheffield and Contributing Advisor to Blackbox Manifold literary journal.

My work has been anthologized in the UK and Hungary and appeared, among others, in The World Record (Bloodaxe, 2012), Dear World & Everyone in It: New Poetry in the UK (Bloodaxe, 2013), Atlantis (Spirit Duplicator, 2016), The Penguin Book of the Prose Poem; From Baudelaire to Anne Carson (Penguin, 2018), A századelő irodalma (a three-volumed anthology of Hungarian contemporary literature, ed. Gábor Zsille, Magyar Napló, Budapest, 2017), The Valley Press Anthology of Prose Poetry (eds. Anne Caldwell & Oz Hardwick, Valley Press, 2019) and digital Archive of the Now (ed. Andrea Brady).

Honours and poetry awards

The Jane Martin National Poetry Prize of Girton College, Cambridge, 2011
Representative Poet of Hungary: Poetry Parnassus, Southbank Centre, London, 2012
Bertha Bulcsu-Award (August 2012, Budapest)
The Arthur Welton Award of the Authors' Foundation/Society of Authors in support of my second collection of poems in English, 2010
Research interests

My research focuses on contemporary literature (poetry and prose) and within that on hybrid, liminal and experimental formations of writing; on the prose poem, poetic prose, collage, creative non-fiction, memoir, creative translation and other auto-theoretical forms as emerging modes and practices of polyphonic texts; on phenomenology, psychogeography and critical theory as part of a transcultural feminist discourse. I am interested in current methods of writing, in exploring a wide range of forms and experimenting further with genre-fusions and the boundaries of genre conventions. My focus being on language I look at morphing concepts of self and selves, identity as fusion of the private and the public, political and personal, the position of the lyric, or fictional, 'fused' and layered I or is, on phenomenological questions in poetry such as the correlation between psyche and world, language and self, inside and outside while I am interested in exploring notions and structures of memory, trauma, movement, documentation, perception, body (psyche) and place and environment, politics, historicity, constructions, deconstructions and reconstructions of self, identity and gender, writing as re-writing; I focus on 'unnameables' – through the lens of the 'anonymous writer'. 

Through this cross-genre experimentation and by looking at notions and structures of identity, perception and consciousness, and also focussing on 'unnamables', the 'difficult' and 'tender tissues' of the writing and writer's material, the abject, the 'undisclosed' I look at liminalities and through that the manipulative and speculative power of and within the contemporary creative text as something always already made, found, speculated, re-invented, (un)documented, de-constructed words of public and private selves.

I am Director of the Centre for Poetry and Poetics and run its Sheffield Poetry Series. I am the poetry editor of Route 57 and Blackbox Manifold's contributing advisor.
Publications
Teaching activities

I am convenor of Undergraduate and Postgraduate Creative Writing.

At present, I convene both Undergraduate and Postgraduate Creative Writing within the School of English. At undergraduate Level I teach Level 1 Introduction to Creative Writing (Lit 109 /Autumn & Lit 111/Spring); Level 2 Creating Poetry (Lit219/Spring) and Level 3 Creative Writing Poetry (Lit3063/Autumn).

I am convenor of the MA in Creative Writing Pathway and teach Creative Writing Poetry 1 and 2 (Lit 6043/44).

I supervise PhDs in Creative Writing (Poetry) and the creative component of PhD students' research in poetry or experimental writing.

Along with teaching creative writing, I am also the editor of Route 57's Poetry Section and I run various other extra curricular creative writing projects at the University of Sheffield with Professor Adam Piette.

I am a Fellow of The Higher Education Academy.

See links:
Further work

Poetry collections in Hungarian

Palimpszeszt (Magyar Napló, Budapest, 2015)
Medalion (Universitas, 2002)
Ikszedik stáció (Universitas, Budapest, 2000)

Journals and anthologies

My work appeared in: English (Oxford Journals), Blackbox Manifold, PN Review, Molly Bloom, Datableed, Para-text, Atlantis (Spirit Duplicator), The Wolf, 3:AM Magazine, Locomotive Journal, Long Poem Magazine, Poetry Wales, electric-wood-spectra (Arc Furnace), citybooks, The Ofi Press, S/S/Y/K (Issues 1-5), In Their Own Words (Salt), Dear World and Everyone in It (Bloodaxe), The Other Room (anthology), The Sheffield Anthology (Smith/Doorstop), Free Verse, Some Roast Poet, Make It New, the Chicago Review , Archive of the Now and recently in The Penguin Book of the Prose Poem, edited by Jeremy Noel-Tod (Penguin, 2018).

My work translated into various languages also appeared in Kluger Hans, Confluences Poetiques, Arterie, но поезия /No Poesia & citybooks.

Archival

Other works/commissions

The North by North West Poetry Tour in Sheffield (collab reading with Terry O'Connor and others in Bank Street Arts, February, 2017) Collaborative performance with Terry O'Connor
No: Swimming pool poem as part of No Performance, theatre performance (Terry O'Connor), performed on the 8th of June, UoS.
Long Poem Project: Poem in collab with Elzbieta Wójcik-Leese in Long Poem, Summer, 2017 originally performed in Lodz Literary Festival, December 2016.
Atlantis Project: Poem ('Word One') collaboration with artist Lizzy Stewart) in Atlantis anthology (Spirit Duplicator, June, 2016)
Enemies Project: Reading with Astrid Alben, Camaradefest II, Rich mix, London, 25th of October, 2014, http://www.weareenemies.com/camaradefestii.html
A sequence of prose poems on psycho-geographic aspects of Sheffield commissioned by 'Citybooks Sheffield' which is an EU-sponsored project in which the University of Sheffield works closely with the Flemish-Dutch House deBuren in Brussels. Five authors, a photographer and a video artist will create a unique portrait of the city of Sheffield, an alternative travel guide, which will be available in three languages: English, French and Dutch.

Sheffield is the UK representative in this web-based project coordinated for Sheffield by Henriette Louwerse, Germanic Studies/SOMLAL.Libretto commissioned by Writers' Centre Norwich and Norwich and Norfolk Festival 2011 (with two other poets: George Szirtes and Andrew McDonnell): The Proportions of the Temple was performed by The Voice Project as a world premiere performance in May 2011, Norwich Cathedral.

Editorial

The Sheffield Anthology, Poems from the City Imagined, eds. Agnes Lehoczky, Adam Piette, Ann Sansom, Peter Sansom (Smith/Doorstop, 2012) https://inpressbooks.co.uk/products/the-sheffield-anthology-poems-from-the-city-imagined
Wordwards, eds. Adam Piette, Agnes Lehoczky and Matthew Cheeseman, (Mass Observation, 2012)
Ebenezer Elliott, Corn Law Rhymer: Poems of Sheffield & Environs, eds. Adam Piette and Agnes Lehoczky, foreword by Alan Halsey and Adam Piette (Issue 8, Route 57)
Route 57, Poetry, Issue 8 (2012-present, published annually)

Translation

I Killed my Mother - Andras Visky's play translated by Agnes Lehoczky & Ailisha O'Sullivan (for the Rosemary Branch Theatre Performance, produced by Summer Dialogues Productions and presented in partnership with the Hungarian Cultural Centre and the Romanian Cultural Institute, London, March 2013)
New Order: Hungarian Poets of the Post 1989 Generation, ed. George Szirtes (Arc Publications, 2010)
Poems by Kemény István and Virág Erdős. (Hungarian Quarterly, April 2010)
Poems and essays by Agnes Nemes Nagy, Zsuzsa Takács, György Somlyó, Imre Korizs and Ákos Gyorffy in Hungarian Literature Online: poems (www.hlo.hu) 2009
Poems by Lavinia Greenlaw. (Nagyvilág, 2008, Hungary)

Featuring on radio

Kossuth Radio, reading, Hungarian National Radio, 11th of April, National Poetry Day, Budapest, 2016. Kossuth Radio, 10th of April, 2015 / Also (recorded) reading at the Mikroszkop Szinpad/Thalia Theatre Budapest.
Kossuth Radio, 11th of April, 2014 / Also (recorded) reading at the Thalia Theatre.
Kossuth Radio, 11th of April, 2013 / Also (recorded) reading at the Mikroszkop Szinpad, Budapest.
Kossuth Radio, 11th of April, 2012 / Also reading at the Mikroszkop Szinpad, Budapest.
Magyar Radió 1 (MR1) - Hungarian Main Radio Station 1. National Poetry Day. 8th of April, 2011.
BBC The Forum - a World of Ideas, with Guy Deutscher and Claude M. Steele - End of June, 2010.