Dr Emma Rhatigan
Lecturer in Early Modern Literature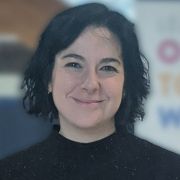 Profile

My research interests lie in sixteenth- and seventeenth-century literature, in particular, the genre of the early modern sermon. Much of my work has been dedicated to developing readings of the sermon which locate it within the broader political, religious, and performance cultures of early modern London.
Research interests

I am currently completing an edited volume of John Donne's Inns of Court sermons for the Oxford Edition of the Sermons of John Donne. This edition will provide a freshly edited and, for the first fully annotated text, of Donne's sermons.

I am also developing a new project exploring connections between the theatre and the pulpit.
Publications

Edited books

Journal articles

Chapters
Research group

I welcome PhD students interested in sixteenth- and seventeenth century literature.
Teaching activities

I teach on the Level 1 modules 'Renaissance to Revolution' and 'Shakespeare' and I also convene the Level 2 module 'John Donne'. I contribute to the MA modules 'Writing the Renaissance' and 'The Early Modern Book'.