Roger Robinson to host workshops with students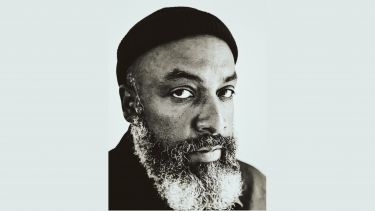 Roger Robinson is the recipient of the T.S. Eliot Prize and RSL Ondaatje Prize for A Portable Paradise, which was also a New Statesman Book of the Year. He has been commissioned by The National Trust, the V&A, and the National Portrait Gallery, amongst others, and is a co-founder of Malika's Poetry Kitchen and Spoke Lab. Recent collaborations include poetic responses to the paintings of Hurvin Anderson, for a forthcoming artist's monograph, and with Johny Pitts, Home Is Not A Place, fusing poetry and photography in the portrayal of and for Black Britain.
Robinson will be working with students from across the School on varying different projects. First-year students on the optional module LIT117 Contemporary Literature, in which Robinson's award-winning poetry collection A Portable Paradise is taught, will have the opportunity to attend a guest lecture in Lecture Theatre 9 in the Arts Tower on Wednesday 19th October, 11am. There will also be a chance for second- and third-year Creative Writing students to take part in a workshop hosted by Robinson later on in the afternoon.
LIT117 Contemporary Literature introduces students to a diverse range of texts in English with a focus on texts published since 2000. Texts are chosen specifically to provoke thinking and debate on urgent and controversial topics, including, but not limited to: globalisation and neoliberalism; political activism and social justice; migration and displacement.