School of English Peer Coaching Programme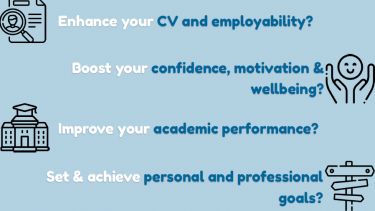 What is Peer Coaching? 
Our model of peer coaching involves students undertaking a series of structured one-to-one, 30 minute coaching conversations in pairs. Students alternate between the roles of coach and coachee so they learn from both the experience of being a coach and the thinking environment of being a coachee. Together, students develop a coaching partnership for the duration of the programme.
In the coaching partnership, the coach uses coaching skills, models and behaviours which they have been taught during the training workshops. These include the use of powerful open questions and deep listening to empower the coachee to identify and achieve their goals. 
Peer coaching is a particular approach to coaching where the people involved in the coaching partnership have some shared experience or are at a similar stage in their life or career. In our programme, students participating in the project are all undergraduate students in The School of English at The University of Sheffield but they are drawn from all levels of the degree programme (i.e. 1st, 2nd, 3rd and 4th years) and represent each of our different honours programmes.
Our blog series: 
Our new blog series has been created to document and highlight this pioneering programme that was launched in February 2023, within the School of English. The first articles have been produced by Sophie (the programme Research Assistant) that talk in depth about her experience of the programme and its aims. Read our latest blog articles here. 
Flagship institutes
The University's four flagship institutes bring together our key strengths to tackle global issues, turning interdisciplinary and translational research into real-world solutions.