The research interests of the school's theatre staff are notably diverse, yet connected by an emphasis on the making and practice of performance, rather than privileging a historical or theoretical approach to the field.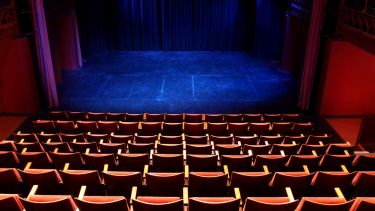 Much of our work concentrates on performance of the 20th and 21st centuries, reflecting a shared interest in the relationships between theatres and the societies within which (or in opposition to which) they function. Staff research examines contrasting modes of artistic creation, including ensemble devising methods, playwriting, directing and dramaturgy, and theatrical adaptation.
Our work engages with postdramatic and immersive theatre; contemporary live art practice; community, participatory and educational theatre; verbatim drama; and performance outside theatre buildings, in schools, museums, city centres, or in the home.
But while much of this research explores practices which implicitly or explicitly challenge the supremacy of the written word, we retain an equal commitment to the vision and imagination of the individual playwright, and to the potential of the text as starting point for challenging and provocative performance, both historically and in the present.
Recent and forthcoming monographs and essay collections by theatre staff include:
Frances Babbage, Adaptation in Contemporary Theatre: Performing Literature (Methuen Bloomsbury, 2017)
Carmen Levick, From the Back of the Truck to the Brooklyn Academy of Music – The Story of Barabbas The Company (Carysfort Press, 2012)
Collaborative and interdisciplinary research is equally important to us: we recently hosted 'In Imagination: the future reflected in art and argument', a symposium held in conjunction with the UK premiere of Forced Entertainment's work Tomorrow's Parties; 'New Technologies for Theatre and Performance' (TaPRA symposium), and the academic-artist AHRC-funded initiative 'Archive of Exile'.
Theatre staff are currently in collaboration with the School of Health and Related Research (ScHARR) for 'Living with Stroke', an interdisciplinary research project combining methods of participatory theatre and narrative inquiry, and working directly with stroke survivors.
Theatre and Performance at the university has strong connections with professional arts practice and we have established research relationships with many external partners including within our staff team:
Honorary Professor Terry O'Connor is a core member of the internationally acclaimed Sheffield-based performance ensemble, Forced Entertainment
Dr Bill McDonnell (whose background is in activist and community theatres) directs our community education programme Acting Together, working with student participants using theatre in local schools, as well as in museums and other community contexts
Professor Frances Babbage has recently been appointed as Academic in Residence at Sheffield Theatres, working with the Artistic Director and other institutional professionals to develop new opportunities for collaborations between Sheffield Theatres and Sheffield University.
Although Theatre and Performance is an integral part of the School of English and the Faculty of Arts and Humanities, we also make use of the University's 200-seat Drama Studio, a licensed and atmospheric venue inside a converted church.
Postgraduate teaching and research
Our PhD students are an integral part of our research community: we strongly encourage international as well as UK applicants, and currently, have several overseas students within our cohort.
Most students on this programme submit a full-length written dissertation, but it is also possible to submit practice alongside a shorter written component. The theatre is regularly represented in the School of English research seminar programme, and we also hold monthly sessions during term-time specifically for theatre research students and staff to discuss their current work (TRiP: Theatre Research in Progress).
Recent and current PhD topics include:
Deconstructing the Spectacle: Towards a Critical Aerial Practice
Contemporary Theatre and the Paratext
New Models of Dramaturgy in Contemporary Performance
The Performance of Age and Ageing in Contemporary British Drama
Theatre and Film in Iran
The plays of Timberlake Wertenbaker
19th Century Theatre in Sheffield
The Dramaturgy of Philip Ridley
Theatre of Saadallah Wannous
Biographical Drama
Political theatre in Syria and the Lebanon
Contemporary drama in Iraq
Theatres of Intimacy
The Aesthetics of Theatre and Learning Disability
Performance, Memory and Family History