This year's International Journalism Week includes four competitions for students. Read on to find out more.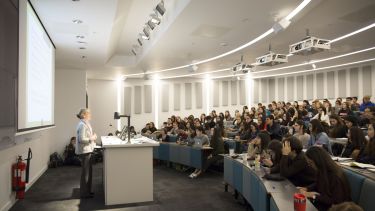 More about International Journalism Week 2022
There will be four types of competitions in International Journalism Week (IJW) 2022: podcast, photography, quiz, and short video productions. Prizes will be awarded to winners of the competitions. Prize winners will also receive certificates as evidence of their hard work and success. The competitions are open to only undergraduate and postgraduate taught students at the University of Sheffield.
All submissions must relate to the theme of IJW2022 which is, "Journalism in times of conflict and tension". Submissions can also relate directly to the subtheme, "Trauma informed journalism and the risk of moral injury".
Podcast competition
This category involved recording and editing your own podcast that responds to the theme. The podcast should be 10 minutes maximum. 
Short video competition
This category involved shooting and editing your own short video that responds to the theme. The video should be 5 minutes maximum. 
Photography competition
This should be a portfolio of between 5 and 10 photographs of your own production that 'tell a story' and respond to the theme.
Quiz competition
All attendees can participate in the quiz, but it is mandatory for all first-year BA Journalism and MA Global Journalism students. The quiz questions will be drawn from papers delivered during the first four days of the conference, and any other questions selected by the co-ordinator of the quiz session.
All competitors should produce a captivating, original and didactic piece that would help us understand better the theme of this year's IJW. Please, send a synopsis of your piece (2 paragraph summary of your idea) to Dr. Ilya Yablokov at i.yablokov@sheffield.ac.uk by 20 October. Once approved, you will get the instructions of how to upload the final version for the judge's assessment by the end of October.