International Journalism Week returns for 2022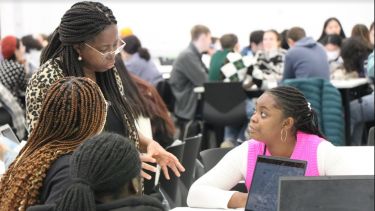 The four-day programme of events empowered trainee journalists with knowledge about pressing issues in the journalism world and the tools they need to stay safe in the field. It was attended by over 350 students, as well as internal staff and external speakers.
Throughout the week, attendees heard from experienced journalists and related experts on trauma-informed journalism. Guest speakers included Professor Jaqueline Harrison, UNESCO Chair for Media Freedom and Head of Department for Journalism Studies at the University of Sheffield, who delivered the keynote speech; Dr. Janet Harris, seasoned war reporter who led a hands-on workshop for students; and Rizwana Hamid, Director of the Centre for Media Monitoring, who led a fascinating talk about Islam and representation.
There were also a number of speakers who joined the event virtually from across the globe. On Wednesday morning, students were joined by Nuhu Diraso Gapsiso PhD and Professor Charles Okigbo to present a panel discussion on political tension, disinformation, and news coverage of elections in Nigeria. Later in the week, students were virtually joined by Serjiy Tomilenko and Clothilde Redfern, alongside in-person speaker Taras Fedirko and moderator William Horsley in a dynamic panel discussion that centred on the war in Ukraine. 
Finally, students were able to make their own contributions on the themes of the event. Dozens of attendees entered the creative competitions, which encouraged students to plan and execute a creative response to the subjects they were faced with during the week. 
Ilya Yablokov, co-organiser of the event, said: "IJW is the highlight of the academic year for our undergraduate and postgraduate students.
"This event was a unique opportunity to learn from the best in the field of media and journalism: students were able to meet practitioners and test new approaches and instruments of news gathering and creation.
"We strive to bring the best speakers to our students, and this year was no different. Both undergraduate and postgraduate students were able to recognise how difficult and challenging it can be to be a journalist, but at the same time they learnt how to avoid troubles, foresee challenges and become a resilient media professional."
You can find out more about the guest speakers and the event itself on the International Journalism Week section of our website.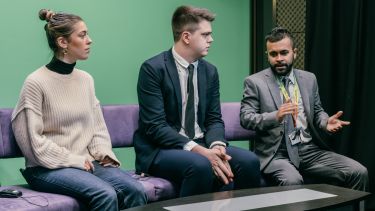 Our outstanding reputation for journalism
We're ranked as one of the top 5 universities to study journalism in the Guardian and the Complete University Guide - we're also 1st in the Russell Group for learning resources, student voice and learning opportunities according to the National Student Survey. 
A global reputation
Sheffield is a research university with a global reputation for excellence. We're a member of the Russell Group: one of the 24 leading UK universities for research and teaching.