The course set me up brilliantly for my job at Channel 4

Freddy Oliphant
Assistant Producer, Channel 4 Sport
MA Broadcast Journalism
2022
Freddy is an award-winning Broadcast Journalist. He graduated from the MA Broadcast Journalism course at the University of Sheffield in 2022.
The MA Broadcast course at Sheffield set me up brilliantly for my job at Channel 4.
I particularly enjoyed the newsdays, as they introduced me to being in a pressurised but exciting newsroom environment, making sure that I was more than ready for my placements and work beyond the course.
Being encouraged to use social media as part of our news output was also especially valuable, as many employers are now looking for graduates who have a strong digital skillset as news coverage continues to evolve.
Freddy recently won a BJTC award for work that he produced during his time at Sheffield - read more about his win here.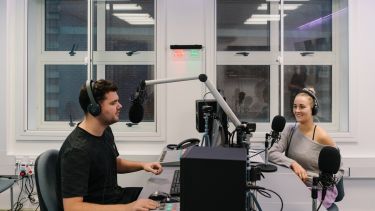 Our outstanding reputation for journalism
The Department of Journalism Studies ranks in the top five of all three of the UK's independent university league tables.
Stay connected with your University
Experience all the benefits and services that come from being a Sheffield graduate.