How my virtual placement became a job

Jessica Morris
Alumni
MA Journalism
It was by complete luck (and a touch of algorithmic aid from Twitter, obviously) that I stumbled across Freelancing for Journalists' (FFJ) tweet about their upcoming work experience scheme. It was different to any work experience opportunity I had come across before, and the one-to-one virtual style really appealed to me.
Also, this wasn't a 'one week and you're done' sort of arrangement. It was totally up to us and our work experience mentors to negotiate times – which I thought was great. 
After paying a small fee we were given access to a list of journalists who had signed up to the scheme, who had confirmed to be open to taking people on for work experience. As I scanned the spreadsheet I was delighted to see so many brilliant journalists eager to impart their wisdom, but one in particular stood out to me. 
We had been advised to contact five journalists from the list first. After that, if none were interested in taking us on, we should contact the next five, and so on. One person on the list seemed so closely aligned with my interests that I only sent one email, and that was to freelance journalist Cat Hufton.
Two worlds collide
Cat really appealed to me because of my interests in fashion, beauty and lifestyle writing. But what really made her stand out was her weekly parenting newsletter The Freelance Parent.
Being a young student parent has sometimes felt like leading a double life. So when I read Cat's description and saw my two worlds of journalism and parenthood collide, I had to reach out to her. She replied and said she was happy to take me on.
After a chat we arranged that I would work every Wednesday, starting pretty much immediately (November 2020). We would initially have a 9am Zoom meeting or phone call, in which Cat would outline my tasks for the day.
The news and feature writing skills I had learned on my course so far were helpful to me to be able to turn around tight, quality copy for Cat with minimal errors

Jess Morris
At first I mostly helped Cat with research, finding suitable case studies, making initial contact with case studies, updating her newsletter Facebook group, and co-writing content for articles and newsletters. Cat was great at keeping in contact with me despite our virtual set-up, through both email and WhatsApp throughout my working days. 
After a few weeks, Cat asked me to write my own guest newsletter, which was published after Christmas: A day in the life of a student parent. This had a great reception online and I was so grateful for the opportunity. I really did get hands-on, varied experience – even though it was all from behind my laptop screen. 
In the weeks after this, Cat offered me a paid part-time job as her Virtual Editorial Assistant. I was obviously really pleased and flattered that she thought I was worth paying for, but was quite shocked as I was so early on in my course and training. I'd just been trying my best!
In my experience from completing a few different placements, it is very much a case of 'you get out what you put in', which certainly rang true in this case.
The highlights of my time working with Cat so far have been having my very own guest newsletter published; interviewing Roanna Day, business owner and ex-online editor of Red magazine; and contacting some of my idols as case studies. These included the founder of the charity Pregnant Then Screwed, Joeli Bearley; and the radio presenter and founder of the Mother Pukka website, Anna Whitehouse.
Valuable experience
The news and feature writing skills I had learned on my course so far were helpful to me to be able to turn around tight, quality copy for Cat with minimal errors. Otherwise I might have struggled to keep up with the pace of completing certain tasks. I feel like my experience as Cat's work experience placement and now Virtual Editorial Assistant has been so valuable for gaining first-hand experience and learning on the job. 
At times, some tasks seemed daunting and above my bar, but I did them anyway, and I feel I've grown tremendously both professionally and personally for it. My key bits of advice to anyone embarking on any sort of placement would be: 
Give it your all and turn up as the best version of yourself, as often as you can. 
Don't be scared of doing daunting jobs. If you weren't capable, you wouldn't have been asked to do it. Just say yes!
Try to nurture a relatively personal relationship as well as a professional one. We're all human and in my experience, a good bond can help you work better and more efficiently together.
Be honest about your capabilities and your expectations of yourself, and how the work is going. 
Find work experience for someone/an organisation whose job is doing something you love and are passionate about. It is so motivating and inspiring.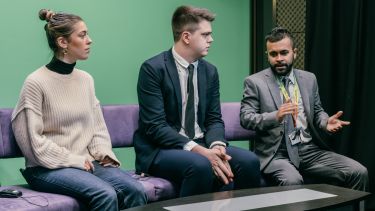 Our outstanding reputation for journalism
We're ranked as one of the top 5 universities to study journalism in the Guardian and the Complete University Guide - we're also 1st in the Russell Group for learning resources, student voice and learning opportunities according to the National Student Survey. 
Stay connected with your University
Experience all the benefits and services that come from being a Sheffield graduate.