Alumna Spotlight: Stephanie Massey
Stephanie Massey graduated in 2022 with a BA in Business Management. Find out more about her career journey after graduation.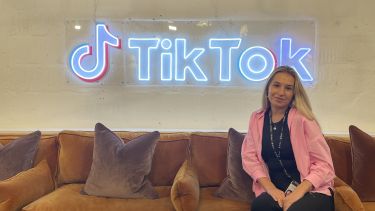 Current job role and employer
Human Resource Graduate at TikTok.
Job overview
Stephanie moved to London in September 2022 to start her graduate scheme in HR at TikTok, a technology company.
She is currently on a HR rotational graduate scheme within the Global Business Solutions organisation at TikTok. During the 18 month graduate scheme she will complete three, six month rotations in the following areas: Talent Acquisition, Human Resource Business Partnering and Learning & Development.
She has just finished her six month rotation in the Talent Acquisition department where she worked across internal mobility projects, interviewing candidates, and ensuring a great candidate experience throughout. 
I was particularly drawn to the opportunity to have more freedom to select modules I was interested in during my second and third year. This allowed me to choose modules that I had a particular passion for such as HR and employee health & well-being. The theories and examples I learnt in these modules have set me up with a great foundation to build upon in a real business setting in my current HR graduate role. 

Stephanie Massey

BA Business Management
Stay connected with your University
Experience all the benefits and services that come from being a Sheffield graduate.