Carlo Alessandro Vidal Miranda
BA International Business Management with Study Abroad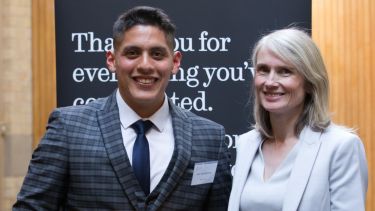 Off
Member of The Dean's List, class of 2019
Carlo won his place on the Dean's List for the significant difference he made for others whilst volunteering, and for his perseverance in building his confidence, skills and industry knowledge to prepare himself for his future career.
Supporting students internationally
Using his experience as an international student from Peru studying in Sheffield, Carlo provided invaluable insight through his work as an International Student Ambassador. He proactively helped benefit the University's recruitment aims for Peru, and the NCUK Centre based out there were so impressed with Carlo that they offered him a job.  
As an active member of the Latin American Society Carlo partnered with the Universidad Peruana de Ciencias Aplicadas to deliver presentations in high schools across Lima to help final year students to make decisions about their future and meet their potential.
As a University volunteer for 2 years, Carlo has also made a significant difference to refugees and asylum seekers, assisting them with language skills and more, and particularly helped one refugee in their case to remain in the UK, who is now studying for a PhD here in the UK. 
Within the University, Carlo provided a student voice, by acting as an Academic Representative for his first year Italian module and final year Portuguese module, and as a Faculty Representative for the Management School in the Faculty of Social Sciences.
Becoming a marketer
Carlo discovered early on the high value of developing work experience during his studies. 
Beginning as a waiter for a local restaurant, he improved his communication and interpersonal skills in customer service before moving to a commission-only role as an independent sales advisor for AtlasCorp.  Carlo showed his willingness to persevere and develop his professional skills, sometimes working for several hours before making a sale.
Carlo successfully applied for a 100-Hours On Campus Placement with the University's Geography Department as a Marketing Assistant, allowing him to gain directly relevant work experience to his chosen career path in marketing.
Entrepreneurship
Carlo demonstrated his continuing efforts to grow his professional expertise by learning the fundamentals of entrepreneurship during the Enterprise Online Summer School. He also completed the Skill Build Certificate with the 'University of Sheffield Enterprise' entrepreneurship department and invested in a 6-month nano degree course to boost his knowledge of digital marketing alongside his studies.
He started the luxury lifestyle Instagram account @billionaireheaven with the aim of building a large enough audience to use for advertising and digital marketing. Carlo's page reached almost 200,000 followers by the end of his studies and as a result of his self-starter attitude, he secured digital marketing experience for companies including Yee Kwan Ice Cream, TheArsenale and PalmHR.
After graduation
Since completing his undergraduate studies, Carlo undertook several marketing and business development roles to further develop his experience, before launching his digital marketing consultancy CVM Bespoke Consultancy.