MSc Information Systems Management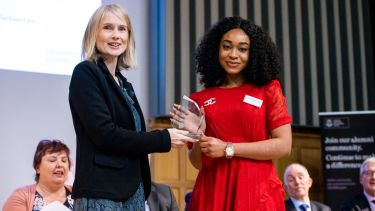 Member of The Dean's List, class of 2019
Chinonyerem took an enthusiastic approach to all opportunities presented to her, actively developing her professional skills and emotional intelligence, and branching out of her comfort zone.
Bridging the gaps
Chinonyerem employed her own experience as an international student from Nigeria, bridging cultural and communications gaps by engaging as Student Ambassador for both the Global Engagement Team and the Information School. Working with a Nigerian Lecturer, she produced a marketing video aimed at attracting Nigerian and African students to the University. Her initiative and dynamism as a Student Ambassador led her team to be nominated for the Student Employee of the Year Award. 
She also became an Academic Student Representative and a Faculty Representative in the Information School, adding her voice to the Student-Staff Committee. She also competed in the Students Union Elections for the post of International Student Officer, facing her fear of public speaking when she participated in live debate in front of over 400 students.
Developing new skills
Chinonyerem was proactive in improving her employability prospects. She researched the computer programming languages most in demand by employers, and then took beginner courses to learn Python programming. 
She took Italian language lessons to give herself an edge when applying for jobs with international companies, and attended regular weekly yoga sessions to balance her emotional wellbeing. 
By attending networking events organised by the Futures First employability hub, Chinonyerem found career opportunities and gained exposure to large organisations such as PwC.
"The school that made me"
Chinonyerem's enthusiastic participation in student societies included the Nigerian Society, where she was instrumental in organising an inter-society football match between the Society and Sheffield Hallam University, and showcased Nigerian heritage at an International Cultural Evening as part of the #WeAreInternational Campaign. 
She volunteered to help tackle homelessness through the Change Lab programme, working within a team to raise awareness about rough sleeping and make contact with landlords. As a member of the Bummit Society, Chinonyerem fundraised for charities by participating in a sponsored hitchhike to Bristol.
After graduating, Chinonyerem joined the graduate training programme at multinational professional services company, Accenture Plc, to become a Strategy Consulting Analyst.
Chinonyerem told us that she will fondly remember the Management School as, "the school that made me".
A world top-100 university
We're a world top-100 university renowned for the excellence, impact and distinctiveness of our research-led learning and teaching.