BA International Business Management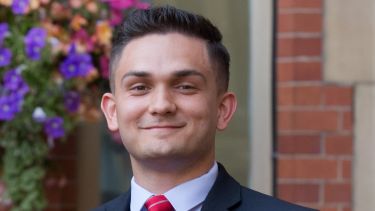 Member of The Dean's List, class of 2018
Dale was admitted to the Dean's List to recognise his enthusiasm for making the most of opportunities, both at home and abroad, and passion for sharing his knowledge and experience for the benefit of others.
Global opportunities
As part of his degree, Dale studied abroad for a year at Drexel University in Philadelphia, Pennsylvania, USA, where as a result of his high academic achievement he was admitted to the Dean's List of Drexel's LeBow College of Business. 
While studying abroad, he took the opportunity to attend the 35th Annual Monetary and Trade Conference in Philadelphia, where he heard from representatives of the International Trade Commission and the Canadian Government about topics such as free trade and investment flows. He also volunteered to help clear up a recreational park in a suburb of Philadelphia, as a way of giving back to the neighbourhood that had been so welcoming to him. 
Dale participated in a week-long 'Entrepreneurial Research: New Horizons' programme during the summer vacation in Moscow, Russia, where his team was recognised for "outstanding performance and commitment".
Paying it forward
After studying abroad, Dale led the Erasmus and Exchange Society (USEES) as President on the Committee, during which he supported the Erasmus Anniversary celebration events in the University. He took the initiative to volunteer at the Study Abroad Fair, established a buddy/mentoring system and unofficially mentored a second-year student who was due to attend Drexel University. 
Dale was a Student Academic Representative for the students on his degree programme and also a Sheffield Mentor to three undergraduate students, offering guidance and support. He passed the exam to become a Football Referee, which enhanced both his leadership and teamworking skills as he became able to support football matches. 
Gaining industry experience
Dale's diverse range of work experience included working at a Polling Station as a Poll Clerk during the EU Referendum, with the aim of working towards being able to run a Polling Station himself. He then applied for the position of Verification Clerk in subsequent elections. He also worked part-time for a restaurant, where he gained experience of marketing the business to the local community.
Dale was one of only seven Faculty of Social Sciences students chosen to undertake the role of Policy Analyst for the Global Policy Journal, attending the 43rd meeting of the G7 Summit in Taormina, Italy, where he gained experience of co-authoring blogs, writing policy journals, and researching policy briefs.
A world top-100 university
We're a world top-100 university renowned for the excellence, impact and distinctiveness of our research-led learning and teaching.