BA International Business Management with Study Abroad and Employment Experience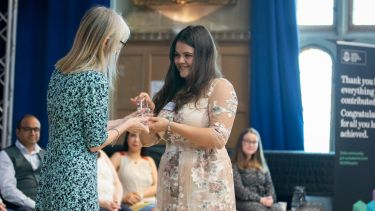 Member of the Dean's List, class of 2022
Elitsa has made the most of every opportunity at Sheffield and has been an active part of Sheffield student life. She is one of the few students to both study for a year abroad and also undertake a placement year in industry.
Community spirit
Elitsa became a member of the Music Players Society and Pole Fitness Society and volunteered at multiple events. She motivated her fellow students to join her in recording a song with the Raising and Giving (RAG) Society, leading a 'We Are The World' campaign to raise awareness about the negative impacts of war. 
She joined the Careers Service eMentoring Scheme and made connections with the University alumni community, to gain professional insight from people who have already graduated and now work in a variety of industries.
Wider perspective
Elitsa demonstrated dedication to her future career and actively sought work experience. During her placement year as a Junior Global Brand Manager at Pfizer, Elitsa took their 10-month research and development programme to better understand American healthcare. Outside her daily work she further developed her skills by completing an online course in researching global issues and a marketing masterclass. 
Throughout her degree, she took Spanish language classes to enhance her interpersonal skills.
During her year abroad at Nanyang Technological University in Singapore, Elitsa actively supported incoming exchange students and because of her positive impact she earned a place on a special wall-display called "The Humans of Hall 5".
Shared experiences
In Sheffield, Elitsa supported her peers with their placement year applications as a Futures First Ambassador. She was also a proud representative of the School as a Student Ambassador, telling prospective students about her "incredible journey" and encouraging others to enrol. 
After graduating from SUMS, Elitsa accepted a graduate position as a People Consultant at global professional services network KPMG.
A world top-100 university
We're a world top-100 university renowned for the excellence, impact and distinctiveness of our research-led learning and teaching.